Hurricane Michael's aftermath
3:43 p.m. ET, October 11, 2018
Hurricane Michael death toll rises to 6
The death toll from Hurricane Michael rose to six Thursday after a new death was reported in North Carolina. 
A 38-year-old man was killed Thursday when a large tree fell on his vehicle on Highway 64, east of Statesville, North Carolina, according to Iredell County Fire Marshal David Souther.
In Florida, four people were killed in Gadsden County as a result of the hurricane, according to Lt. Anglie Hightower, spokesperson for Gadsden County Sheriff's Office.
A child was killed in Seminole County, Georgia, Wednesday after a metal carport crashed into the roof of her home. 
3:26 p.m. ET, October 11, 2018
Trump vows to "do everything in our power to help those in need"
President Trump just spoke briefly about Hurricane Michael during a human trafficking event at the White House.
He expressed his sympathy for victims of the hurricane, and for "the many families who have been displaced and the businesses that have been affected by this devastating hurricane."
He thanked state and local authorities, as well as first responders and law enforcement, for their work in the hurricane's aftermath.
He also emphasized the federal administration's full support. "FEMA and first responders are on the ground, and we have teams currently conducting search and rescue missions," he said, adding that the "incredible" Coast Guard had "saved many lives."
"We will do everything in our power to help those in need, and we will not not rest or wager until the job is done and the recovery is complete."
At the end of his remarks, he said the hurricane moved so fast that "it went through like a bullet, but it was a devastating bullet. It was winds about as big as we've ever seen in history. We've never had anything like this."
3:27 p.m. ET, October 11, 2018
At least 5 dead in Hurricane Michael
At least five people were killed after Hurricane Michael slammed into the Florida Panhandle and portions of Georgia.
Four people died in Gadsden County, Florida, as a result of the hurricane, according to Lt. Anglie Hightower, spokesperson of the Gadsden County Sheriff's Office.
One man died after a tree fell on a home near Greensboro in Gadsden County Wednesday, Hightower said. She does not yet have more details on the other three deaths, reported Thursday.
One child died in Seminole County, Georgia, on Wednesday after a free-standing metal carport was lifted into the air by the wind and crashed into the trailer, according to Travis Brooks, the director of Seminole County Emergency Management.
4:07 p.m. ET, October 11, 2018
Michael is producing flash flooding across portions of North Carolina and Virginia
Michael is still a tropical storm with sustained winds of 50 mph, according the National Hurricane Center's latest advisory.
At this moment, northeast South Carolina is experiencing tropical storm conditions.
Flash flood watches have also been issued for much of the Carolinas and Virginia. Flash flooding is occurring in the states' mountainous regions.
Strong winds will move across North Carolina and Virginia Thursday afternoon and into the night.
Michael is expected to dump four to seven inches of rain from South Carolina to Virginia.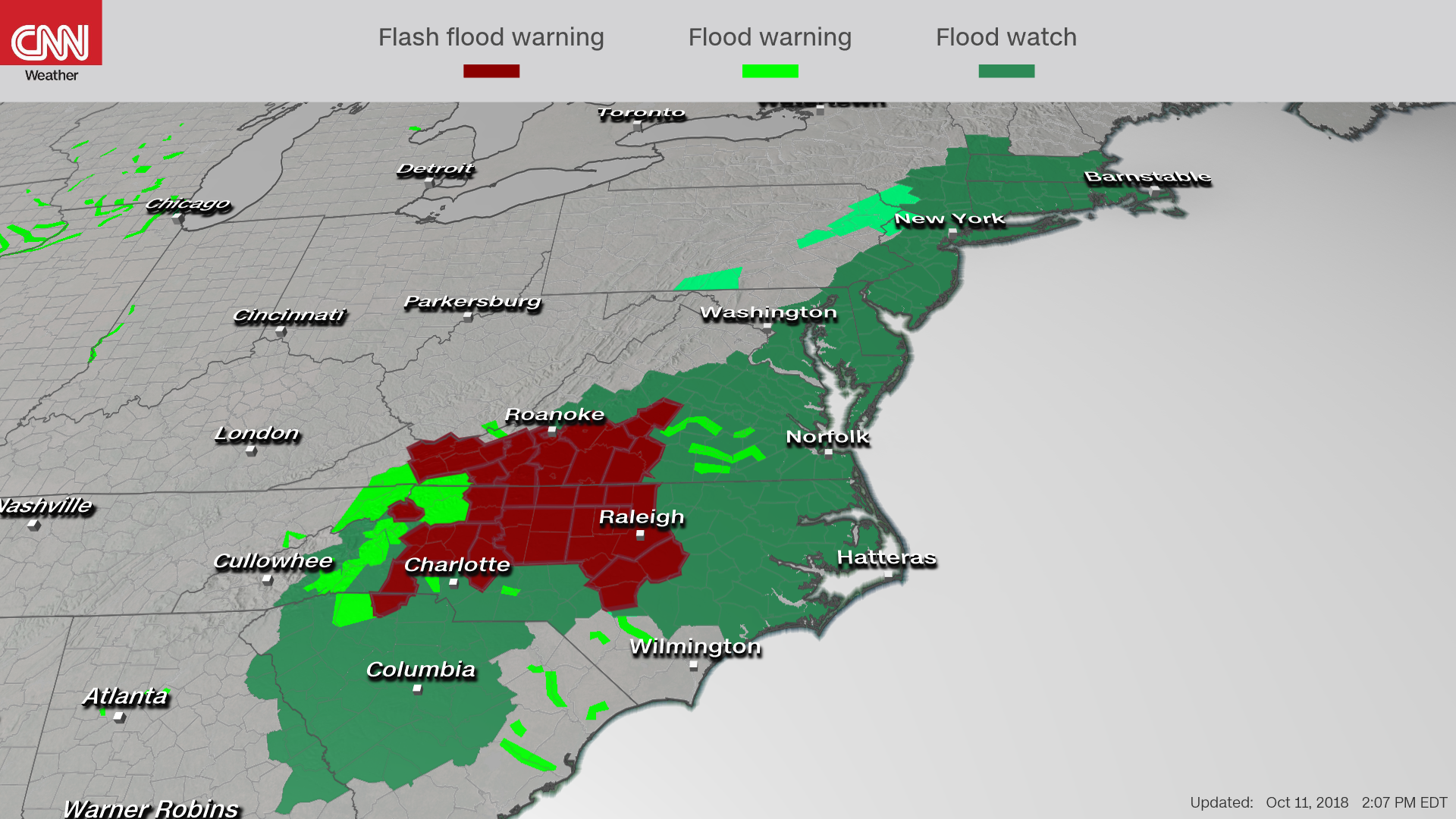 Flash flood watches track up the coast to Boston, where heavy rain is expected. A cold front pushing across the country will also move into the Northeast. This front is also one of the upper level elements helping steer Michael out into the Atlantic.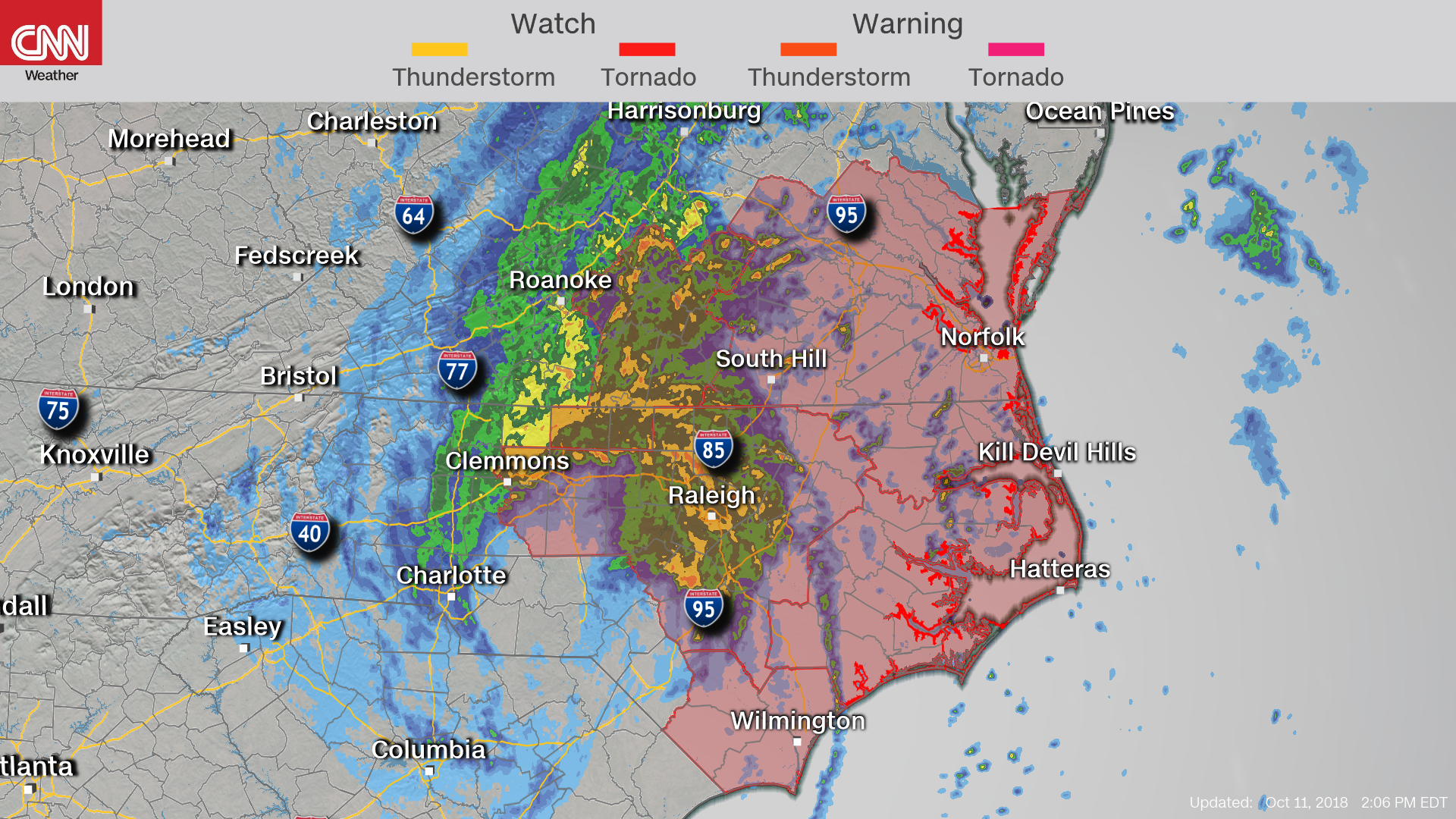 Tornado watches have also been issued for the east side of the storm.
A few tornadoes are likely with a couple of intense tornadoes possible across the watch area, the National Weather Service said.
2:19 p.m. ET, October 11, 2018
North Carolina governor urges residents to stay alert as Michael nears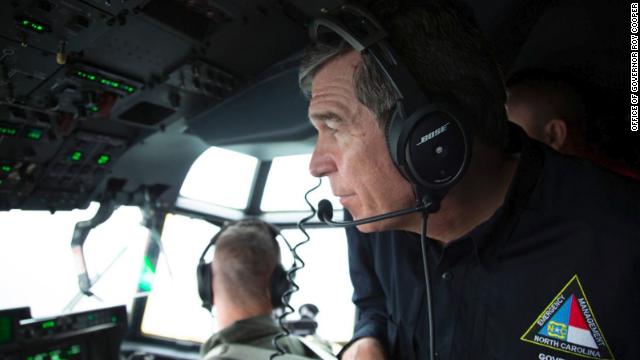 North Carolina Gov. Roy Cooper urged residents to remain vigilant as Michael, which is now a tropical storm, moves northeast.
After slamming Florida and lashing Georgia, Michael is now threatening the storm-weary Carolinas. Tornadoes, dangerous winds and more flooding are possible in many of the same areas still recovering from Hurricane Florence.
"For North Carolina, Michael isn't as bad as Florence, but it adds unwelcomed insult to injury, so we must be on alert," Cooper said in statement.
Michael is expected to dump 4 to 7 inches of rain from eastern Georgia to the southern mid-Atlantic and up to 9 inches of rain in parts of North Carolina and Virginia, the National Hurricane Center said.
2:03 p.m. ET, October 11, 2018
Panama City Beach US Coast Guard overflight shows heavy damage
Panama City Beach US Coast Guard's AIRSTA Savannah aircraft is currently conducting response operations in the wake of Hurricane Michael, and they posted this video showing a storm-damaged neighborhood.
Numerous homes had their roofs torn off and sand from the beach appears washed up on the road. Some buildings were totally obliterated, others, miraculously, appear untouched.
See it:
1:36 p.m. ET, October 11, 2018
Aerial photos show large boat turned on its side near Apalachicola
The US Coast Guard Southeast released these aerial photos of the coastal area near Apalachicola, Florida.
The Coast Guard said it took these photos while crews were assessing the hurricane's damage. In one photo, a boat appeared to be turned on its side.
Here's what it looks like:
1:15 p.m. ET, October 11, 2018
Thousands of evacuees stayed in Red Cross shelters
Nearly 8,000 Hurricane Michael evacuees stayed in American Red Cross shelters in Alabama, Georgia and Florida, according to FEMA.
Red Cross and other communities organizations were also preparing meals for those affected by the devastating storm, FEMA said in a statement.
Here are some of the efforts underway right now:
Meals: "Operation BBQ Relief" is opening two kitchens in Tallahassee and Tampa. They can serve up to 30,000 meals per day, FEMA said. The Salvation Army is also responding with 48 mobile kitchens.
Electricity: The US Army Corps of Engineers has deployed a team to work on providing temporary power in Florida.
Damage assessment: The US Coast Guard also deployed teams to assess the destruction and repair damaged facilities.
Search and rescue: 2,500 members of the Florida National Guard were activated to "assist with immediate life-saving activities," FEMA said.
1:05 p.m. ET, October 11, 2018
FEMA official on rescue efforts: "We want to get to as many survivors as we possibly can"
Jeff Byard, FEMA's associate administrator for the Office and Response and Recovery, said crews were focused Thursday on rescue efforts in communities affected by Hurricane Michael.
"Priority one today is continuing our search and rescue efforts. The state of Florida is doing an outstanding job. We hope to have the initial search done, which is a wide area in the next 72 hours or so," he told CNN.
Byard said it's too early to say how many people are unaccounted for.
"We want to get to those survivors and unfortunately, you look at the devastation and the strength of the storm. The evacuation rates that were not realized. Those fatalities may very well be realized, but what a job search and rescue does and all levels as a tough job. Right now, we want to get to as many survivors as we possibly can," he said.
FEMA, he said, is also "planning for a very long-term recovery effort in Florida, Georgia, and other states."
Watch: