Hurricane Michael's aftermath
8:48 a.m. ET, October 9, 2018
Cruise ship gets tossed around by Hurricane Michael
Snapper Tams is supposed to be having a relaxing vacation onboard Royal Caribbean's Empress of the Seas. Instead, he's riding out the outer bands of Hurricane Michael.
Video he took last night on the ship, southwest of Isla de la Juventud, Cuba, shows stormy seas, high winds and torrential rain.
Tams said the ship sat for a few hours, waiting for the storm to move through the Yucatan Channel.  They've since started back up and are heading towards Havana.
"Seas are still somewhat rough," he told CNN. "Last night they were about 13-15' swells."
He says some onboard, unsurprisingly, have been feeling a bit seasick.
WATCH:
8:35 a.m. ET, October 9, 2018
This is what Hurricane Michael looks like from space
New NOAA satellite imagery shows Hurricane Michael as it moved into the Gulf of Mexico overnight.
The storm is expected to make landfall in Florida as a major, category 3 hurricane.
WATCH:
8:29 a.m. ET, October 9, 2018
Governor: Florida will feel Hurricane Michael impacts in about 12 hours
"Hurricane Michael is a monstrous storm," Florida Governor Rick Scott said at a morning press briefing from the Florida State Emergency Operations Center. "We are 100 percent ready."
Ahead of the storm, the Governor says he's spoken with President Trump and FEMA Administrator Brock Long. He's already issues state of emergency for 34 Florida counties.
FEMA resources are already in place in Florida.
8:05 a.m. ET, October 9, 2018
Michael is now a category 2 hurricane
Hurricane Michael has strengthened to a category 2 hurricane with maximum sustained winds of 100 mph, gusting to 115 mph.
Michael is currently located 395 miles south of Panama City, Florida, moving north-northwest at 12 mph.
Hurricane-force winds extend outward up to 40 miles from the center and tropical-storm-force winds extend up to 195 miles from the center, according to the National Hurricane Center.
The next update from the National Hurricane Center will be at 11a ET.
7:28 a.m. ET, October 9, 2018
Where to find Michael this morning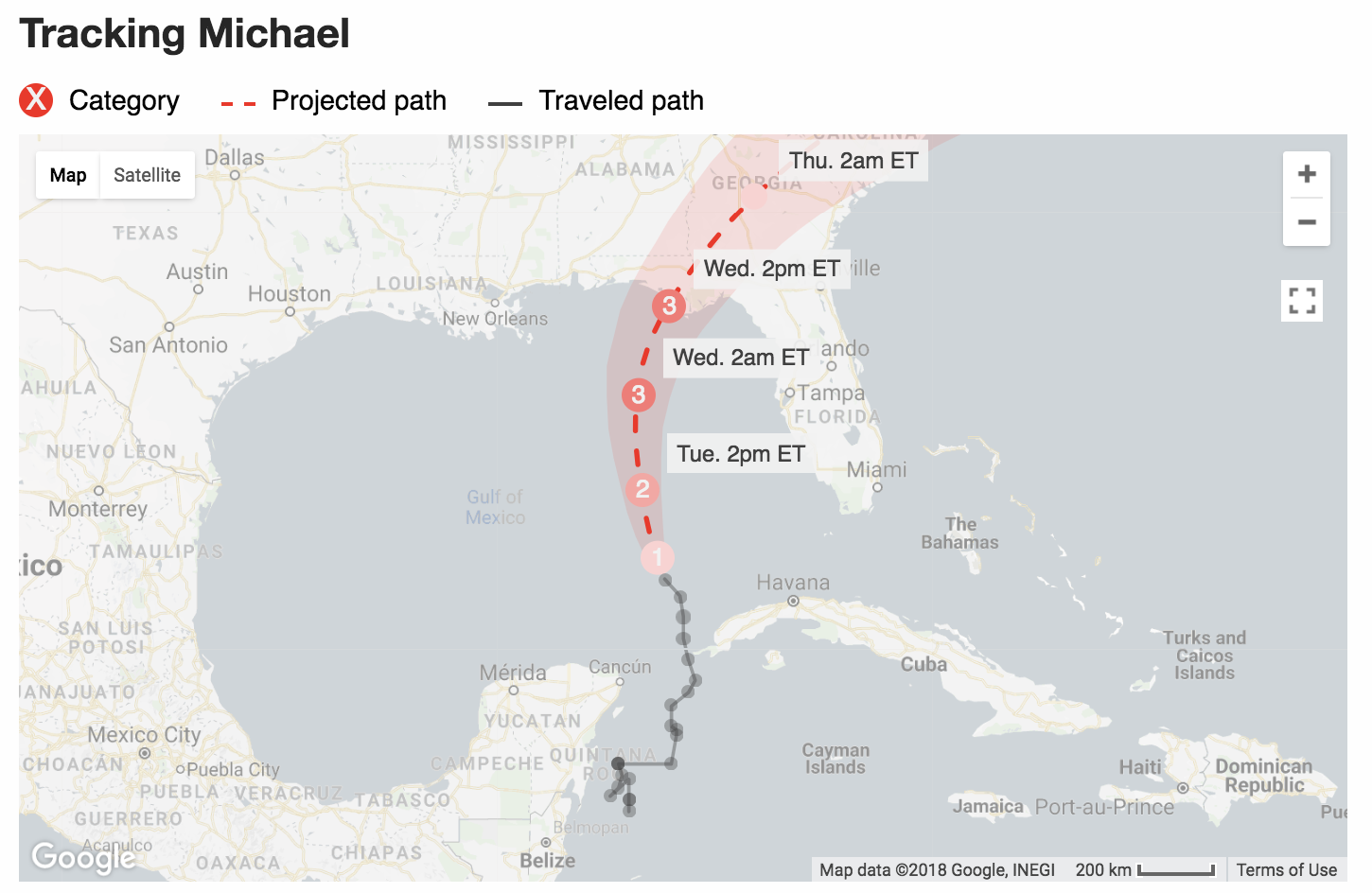 As of 5 a.m. ET, Michael's center was about 455 miles south of Panama City, Florida and 425 miles south of Apalachicola, Florida.
The storm was moving north-northwest at 12 mph. Hurricane-force winds extended outward up to 40 miles from the center and tropical-storm-force winds extended outward up to 195 miles, the National Hurricane Center said.
7:19 a.m. ET, October 9, 2018
Hurricane Michael takes aim at 300-mile Gulf Coast target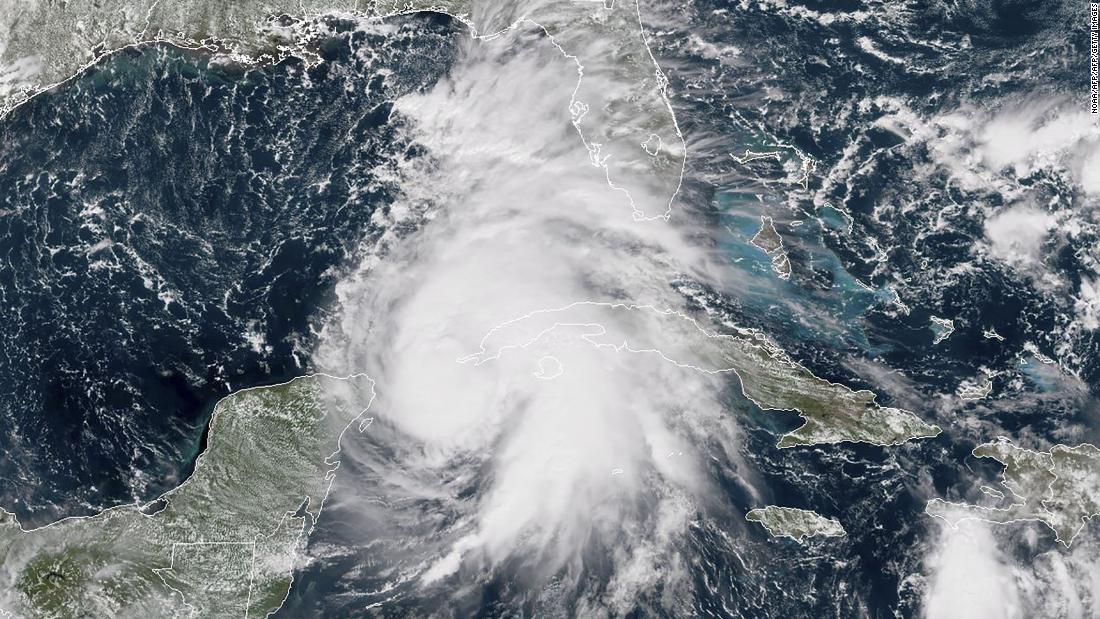 Hurricane Michael is threatening more than 300 miles of the Gulf Coast, prompting emergency declarations in more than 100 counties from Mobile, Alabama through the Florida Panhandle and into the state's Big Bend region.
Residents in those areas are being warned to prepare for Michael to make landfall Wednesday as a "dangerous major hurricane," bringing damaging winds, and life-threatening storm surge and flash flooding.
"#HurricaneMichael isn't heading to any one town..." the National Weather Service tweeted Monday. "There are warnings for more than 300 miles of coastline. It's forecast to be a large and dangerous hurricane at landfall."
Michael underwent a period of "rapid intensification" from mid-day Sunday to mid-day Monday, growing from a tropical storm with sustained winds of 40 mph to a Category 1 hurricane with sustained winds of 75 mph.
What that means: A storm undergoes rapid intensification when its maximum sustained winds increase at least 35 mph in 24 hours or less, according to the National Hurricane Center. Michael is expected to undergo another rapid intensification in the next 24 hours.
The Category 1 hurricane now has maximum sustained winds of 90 mph, according to the National Hurricane Center.
The center said Michael could reach land as a Category 3 hurricane, with maximum sustained winds of at least 111 mph. Storms with winds of at least 111 mph are designated as "major" hurricanes.
8:01 p.m. ET, October 8, 2018
Our live coverage of Hurricane Michael has ended for the night, but we'll be back tomorrow. Go here or scroll through the posts below to read more about the hurricane.
8:00 p.m. ET, October 8, 2018
How to stay connected during the storm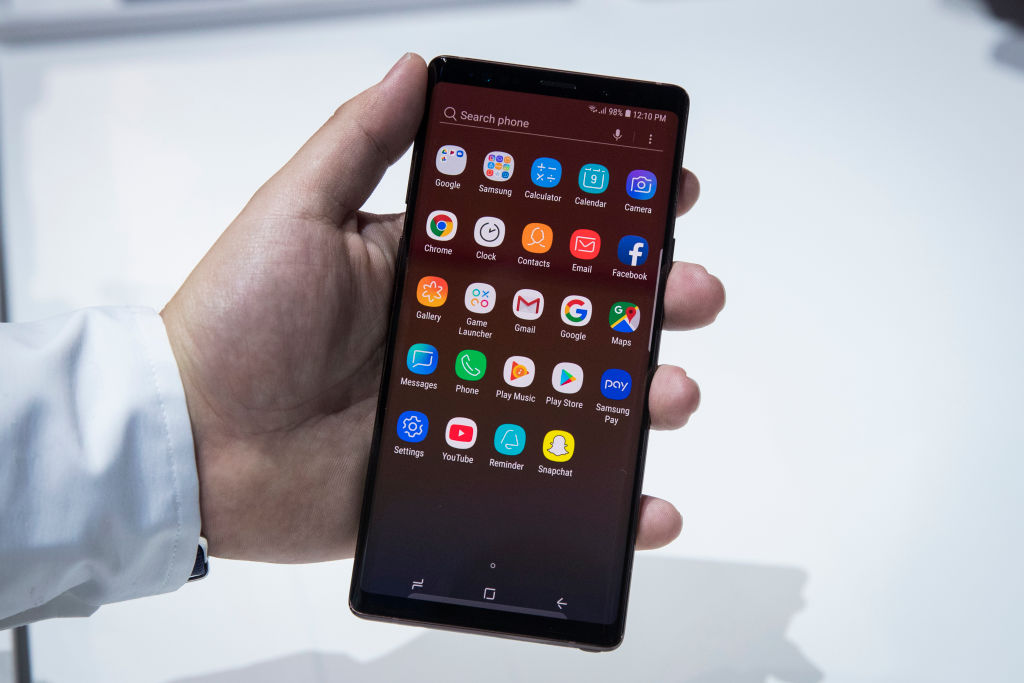 Anyone in the path of Hurricane Michael should take steps to fuel their devices with maximum amount of power and necessary information.
Here's how to get your mobile device ready for a major storm:
Charge up: Fully charge your main phone and any extra phones you have. For backup power, charge any power packs you have, as well as laptops. To stretch out the battery life, turn on low power mode, dim the brightness, and turn off any unnecessary notifications.
Install key apps: Consider installing Zello a walkie-talkie app that lets you share audio messages and photos. FireChat is another messaging app that works without data or a signal, and instead relies on mesh networks. Airbnb's Open Homes program helps those in need of shelter. Finally, install a few of the Red Cross apps, which can offer first aid relief to both humans and pets.
Bookmark important pages: Go to your state emergency management or department of public safety site. Bookmark its main information page for the storm, and download any app they might have.
Opt in to emergency alerts: Go to your phone's settings and make sure emergency alerts are enabled for extreme threats and severe threats. The government can push these alert, which may include an evacuation order, to phones in regions via the WEA (wireless emergency alerts) system.
Download maps: Maps can be a data hog. The Google Maps app lets you download entire maps for your area to your phone. On Android or iOS, search for your city and tap the more option (three dots), then tap "Download offline map."
7:59 p.m. ET, October 8, 2018
Okaloosa County orders evacuations
Officials in Okaloosa County declared a state of emergency Monday night and ordered evacuations, according to a statement.
The evacuations extend to residents, who are living south of US 98 and in low lying and coastal areas.
A shelter will open at 8 p.m. ET at the Davidson Middle School for evacuees.
In Walton County, emergency management officials also ordered mandatory evacuations.