Hurricane Michael's aftermath
8:11 p.m. ET, October 10, 2018
There are nearly 500,000 customers without power across three states
There are nearly 500,000 customers are without power across Alabama, Georgia and Florida as a result of Hurricane Michael according to utilities and emergency management.
Alabama EMA is reporting over 60,000 customers without power.
Georgia Power is reporting 42,242 customers without power.
Florida SERT is reporting 388,160 customers without power.
Key thing to know: It's important to note these are customers. If there are eight people living in a house, for example, that's just one customer, but a whole lot more people who don't have air conditioning, a means to charge their phones, or a working refrigerator tonight.
8:06 p.m. ET, October 10, 2018
Hurricane Michael now a Category 1 as it moves through southwest Georgia
Hurricane Michael is now a Category 1 storm with winds of 90 mph. 
The center continues to move through southwest Georgia, and is located 20 miles from Albany, GA. 
Dangerous storm surge, hurricane force winds, flash flooding, and possible tornadoes continue according to the National Hurricane Center.
But the powerful and historic Category 4 hurricane that slammed into Florida's coast is no more.
8:04 p.m. ET, October 10, 2018
Alabama governor requests federal emergency declaration for Hurricane Michael
Governor Kay Ivey requested an emergency declaration from President Donald Trump for Hurricane Michael recovery according to a tweet from Ivey.
The declaration would allow for preemptive federal assistance for debri removal, generators and other resources according to the tweet.
8:00 p.m. ET, October 10, 2018
White House shares photo of Trump talking to Georgia governor from Air Force One
The White House shared a photo just now that shows President Trump talking to Georgia Gov. Nathan Deal on his way to a rally in Erie, PA. It also sent a photo of Trump talking to Alabama Governor Kay Ivey.
Earlier, the President said that while some had suggested he cancel tonight's rally, it wouldn't be fair to those that were in line to see him speak.
The White House said he would be taking calls on the plane, so this appears to be proof that that's exactly what the President did while en route.
7:53 p.m. ET, October 10, 2018
National Weather Service director: "This story isn't over"
The fast and furious strengthening of Hurricane Michael in recent days caught some off guard but National Weather Service Director Louis Uccellini wasn't surprised.
"We knew this was going to be a dangerous storm situation," he told CNN Wednesday.
"It was going to develop very rapidly over very warm waters over the Gulf of Mexico. I think people have gotten used to seeing hurricanes come across the Atlantic and have five, six, seven days to be working with this."
Gulf storms, however, intensify much more rapidly, especially in the fall.
"It doesn't give you those four, five, six days as a hurricane to prepare for either as an agency or an as an individual," he said.
Uccellini added, "This story isn't over yet in terms of the impact that this storm is going to have."
7:42 p.m. ET, October 10, 2018
Panama City man says the damage in his neighborhood is "really bad"
Reid Garrett's apartment building in Panama City, Florida, is still standing, but he said his neighborhood was damaged by the storm.
Garrett told CNN his building was stable.
"We are safe. Just a lot of damage to every building around here. It's really, really bad. Now the flooding is starting," he told CNN.
7:29 p.m. ET, October 10, 2018
Powerful winds rip through buildings across the Florida Panhandle
Wind gusts blew out windows in homes and office buildings, including the First Federal Bank and Medical Sacred Heart.
The hospital said it is running off of generators and patients have been moved to safe areas of the facility.
In Panama City Beach, the siding was ripped off this building.
7:15 p.m. ET, October 10, 2018
Hurricane Michael is now a Category 2 storm
The center of the storm is moving toward Albany, Georgia, at 13 mph.
It is still dangerous storm packing winds of 100 mph, which is Category 2 on the Saffir Simpson Scale.
Albany, Georgia, just reported a wind gust of 67 mph and Tallahassee 60 mph.
Dangers continue through the evening with strong winds, possible tornadoes and flash flooding across Georgia.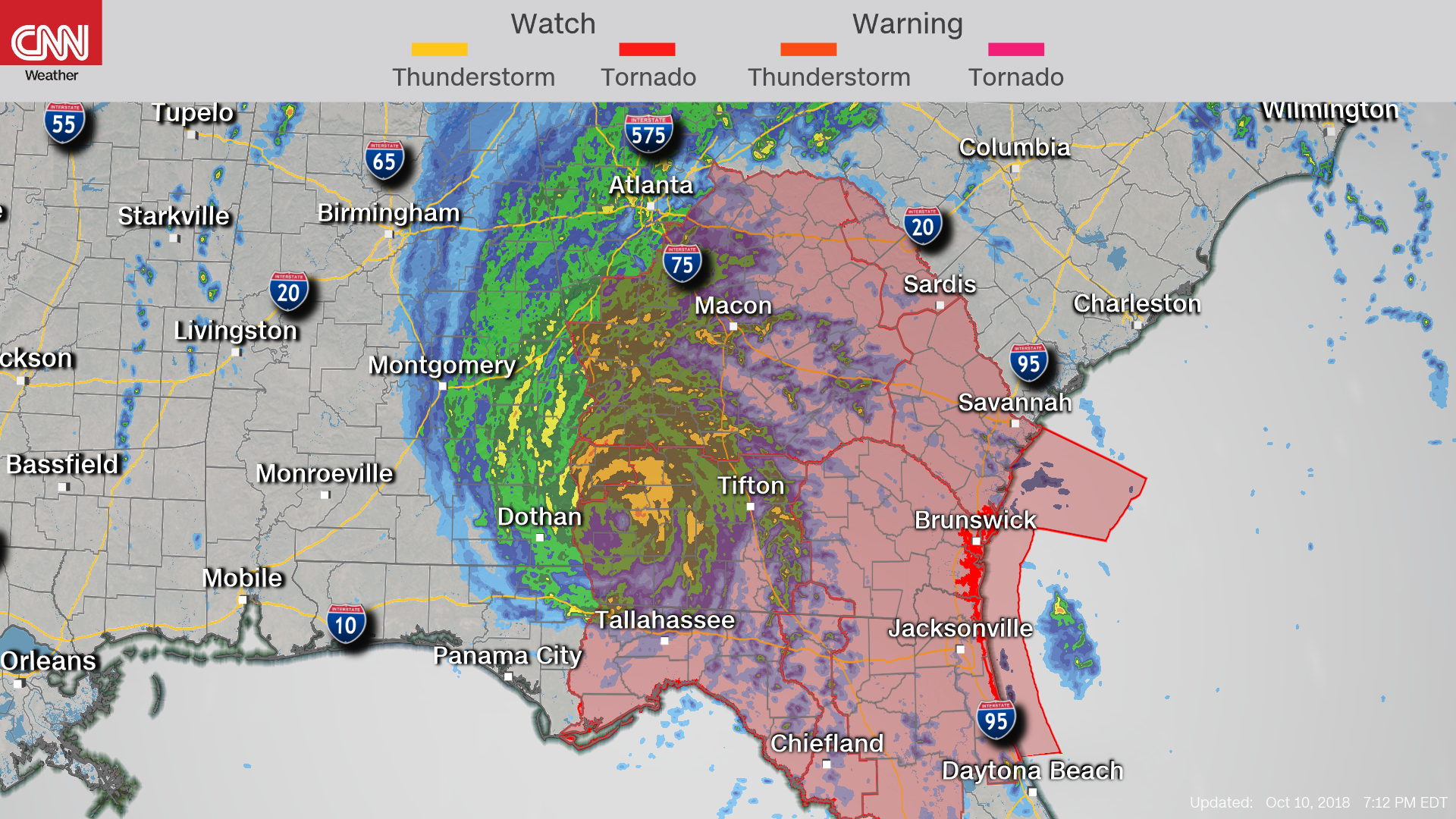 7:05 p.m. ET, October 10, 2018
Florida senator's message to residents: Heed all warnings and stay safe
Florida Republican Sen. Marco Rubio urged state residents in the path of Hurricane Michael to not let their guard down.
"My top concern is that somebody's out there hearing that this thing passed through and now it's the time to go back and check it out and then you get the storm surge come in," he told CNN.
Wait until authorities say it's safe to venture out, Rubio said.
"It's a time of incredible caution," he said. "Every time we have these storms, somebody loses their life in the aftermath for a lot of different reasons."