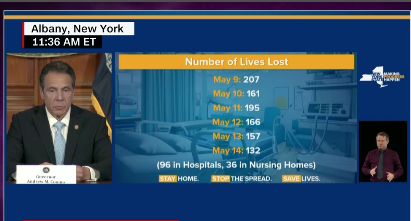 New York Gov. Andrew Cuomo said 132 people died across the state yesterday, adding the number of deaths is down "but still painful."
The number of deaths has dropped to levels recorded late March, Cuomo said.
Cuomo said total number of hospitalizations and intubations are down, which is the "way we like to see it."
He said the number of new cases is up, but only "a tick." Cuomo noted that the new cases are mostly coming from people who "are at home."
"So we're talking about home spread," Cuomo said. And that's "the hardest place to control the spread."
Watch: