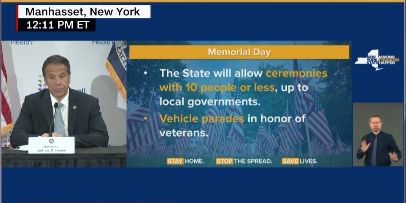 New York Gov. Andrew Cuomo announced that the state will allow ceremonies on Memorial Day with up to 10 people or less. Vehicle parades in honor veterans will also be allowed across the state. 
The governor said local governments can decide if they want these ceremonies to occur. 
"Memorial day is coming up. That is an important American tradition. We want to honor our veterans and we want to make sure that no matter what happens, we are still honoring our veterans," Cuomo said. 
Cuomo added that he hopes those ceremonies are broadcast and televised in their areas so that people can be part of "honoring that tradition." 
Hear the governor's announcement: