Severe storms move across US
2:25 p.m. ET, January 11, 2020
Snow seen in North Texas
Some residents of North Texas got to see snow today as a giant storm makes its way across the US this weekend.
The following photo was taken this morning in a suburb just north of the Dallas-Fort Worth area.
1:57 p.m. ET, January 11, 2020
A Texas firefighter and police officer were killed while working a crash due to icy roadways
A firefighter and a police officer were killed while working the scene of a crash on Interstate 27 in Lubbock, Texas this morning, according to city officials.
A second firefighter was critically injured and remains in the hospital, officials said at a press conference Saturday morning. 
Emergency responders arrived on scene of a single vehicle car accident on Interstate 27 around 8:30 a.m. CST.
While on scene, a second vehicle towing a trailer was traveling southbound when it crossed over the median, about 25 yards from the first accident, Lubbock Police Chief Floyd Mitchell said.
"While working both accidents a third vehicle traveling southbound" crossed over into struck two firefighters and one police officer, Mitchell said.
A 27-year-old male officer died at the scene, Mitchell said. The two firefighters were transported; a 39-year-old firefighter died at the hospital, Lubbock Fire Chief Shaun Fogerson said. 
"When road conditions get this bad we need to make sure that people understand they need to slow down," Mitchell said. 
"If people would respect road conditions this never would have happened," Fogerson said.  
Overnight snow in "Lubbock was one inch" and there were still ice encrusted walkways and roads into Saturday, according to NWS.
1:28 p.m. ET, January 11, 2020
National Weather Service confirms three dead in Alabama following severe weather
The National Weather Service in Birmingham, Alabama, confirms three people have died as a result of severe weather in Pickens County.
CNN affiliate WBMA reports that the deaths occurred near the town of Carrollton, Alabama, along Settlement Road.
Tornado warnings were in place for the area.
12:34 p.m. ET, January 11, 2020
Trampoline pole crashes into College Station home from severe weather
While watching movies and making some food last night, Dylan Becton, of College Station, Texas, heard a loud noise before seeing the trampoline pole that holds up the safety net came come through his roof.
Becton said he was scared but when he and his brother realized it was just the trampoline, they were relieved.
Other than the trampoline through their roof, and some downed fences, that's all the damages the family home saw, Becton added.
12:15 p.m. ET, January 11, 2020
High winds and lightning strikes damage two Texas state parks
A severe storm working its way through the US has damaged two parks in Bastrop County and Smithville, Texas, according to a tweet from TX Parks & Wildlife.
"High winds and lightning strike Bastrop State Park & Buescher State Park overnight. Photos include a large tree blocking the entrance to Buescher and downed antennae. No known injuries or damage to visitors' property," the tweet said.
2:04 p.m. ET, January 11, 2020
Three people killed following severe storms in Louisiana
At least three people have been reported dead in Louisiana after storms rolled through last night.
Cado Parish Sheriff Steve Prator says an Oil City man was killed after a tree fell on his home. The man was pronounced dead on the scene. The man's wife, who was also at home, was uninjured. 
In a separate incident in Bossier Parish, an elderly couple was killed in a similar incident when their bodies were found near their demolished home. There were severe storms in the area of both incidents last night with tornado watches in affect.
11:22 a.m. ET, January 11, 2020
Parts of interstate closed in Louisiana as storms move through the area
The Louisiana State Police report parts of Interstate 20 have been closed near Minden, Louisiana.
In a tweet the agency announced the I-20 in Webster Parish, east of Minden is closed eastbound at mile post 49 and is closed westbound at mile post 52. There are reports of downed trees and power lines on many roadways, the Louisiana State Police are asking people to avoid the area if possible. 
The Louisiana Department of Transportation in Shreveport advises that traffic congestion has reached 1 mile in both directions in the area of the interstate closure and advises motorist to take alternate routes in a tweet. 
A line of storms moved through the area Friday night into Saturday, according to the National Weather Service which mentioned the possibility of damaging straight-line winds as the primary threat with a chance of isolated tornadoes in a tweet.
8:59 a.m. ET, January 11, 2020
Triple threat storm moves along the east coast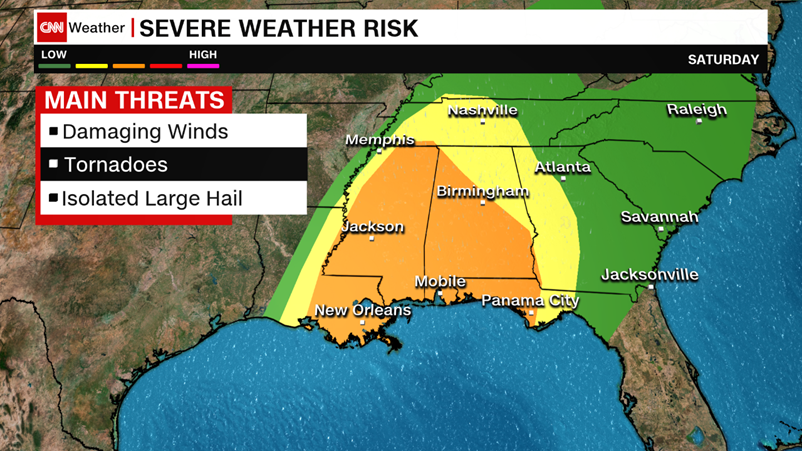 A level 3 out of 5, enhanced risk for severe storms is in place today into overnight for 9 million in parts of Louisiana, Mississippi and Alabama for cities like New Orleans, Jackson, Mobile and Birmingham
A slight risk, level 2 of 5, will impact 12 million people and cover parts of middle Tennessee, northern Alabama and western Georgia for cities like Nashville, Huntsville and Memphis
Multiple tornado watches are already in effect through late morning and these will be extended eastward as the storms progress
Brief tornadoes are likely to spin up along the line of storms as it moves along with damaging wind threats
Flood or flash flood watches are in effect for over 30 million people in Mississippi to the Great Lakes
By Sunday, the threat diminishes significantly, with mainly lingering rain along the mid-Atlantic