Boeing 737 Max 8 planes grounded after Ethiopian crash
12:21 p.m. ET, March 13, 2019
Trump, Boeing ties scrutinized as FAA stands nearly alone in support of Max 8
A global grounding of Boeing's 737 Max 8 airliner is drawing new attention to the close ties between the manufacturer and the Trump administration, which so far is refusing calls to join every other country in suspending use of the plane in the United States.
President Donald Trump has touted Boeing sales across the globe -- including two weeks ago in Vietnam -- and has cultivated close relationships with the company's executives. His acting defense secretary served atop the company for more than three decades, including as the newly scrutinized planes were being developed. The company has spent millions over the past years lobbying decision-makers in Washington.
Now, as Boeing faces crumbling public confidence in one of its marquee products, those ties are being viewed in a new light. Even under increasing pressure from airline labor groups and lawmakers to take the planes out of use, the administration maintains the 737 Max 8 model remains safe to fly.
Trump spoke by phone Tuesday with CEO Dennis Muilenburg, who assured him the 737 Max 8 was safe, despite two recent crashes. Hours after the call -- which was scheduled after a crash in Ethiopia killed 157 people -- the Federal Aviation Administration said it remained confident in the planes, even as governments across Europe and Asia grounded them.
"Thus far, our review shows no systematic performance issues and provides no basis to order grounding the aircraft. Nor have other civil aviation authorities provided data to us that would warrant action," the agency said.
Helmed by an acting administrator for more than a year, the FAA finds itself the focus of congressional and public scrutiny for its role in inspecting and ensuring the safety of Boeing airplanes. Some US pilots who fly the Boeing 737 Max registered complaints about the way the jet has performed in flight, according to a federal database accessed by CNN.
12:37 p.m. ET, March 13, 2019
NOW: Canada grounds Boeing 737 Max aircraft
Canada Minister of Transport Marc Garneau just announced that as the result of new data that they received this morning, they will no longer allow Boeing 737 Max 8 or 9 aircraft to take off and land or fly over Canadian airspace.
Flightradar24 tweeted a map showing at least six aircraft currently flying in Canada at the moment:
11:51 a.m. ET, March 13, 2019
Iraq bans all 737 Max planes from its airspace
Iraq's Civil Aviation Authority has banned Boeing 737 Max aircraft from entering the country's airspace until further notice, due to technical and international restrictions using this type of aircraft.
Here's the statement from the agency:
"The Iraqi Civil Aviation Authority decided on Wednesday to stop granting approval for the passage of 737 MAX aircraft in Iraqi airspace because of technical and international restrictions using this type of aircraft. This decision came under the guidance of the Department of Aviation Safety in the Iraqi Civil Aviation Authority to ensure the safe use of this type of aircraft to maintain safety procedures in Iraqi airspace,"
11:08 a.m. ET, March 13, 2019
Fix to Boeing 737 Max 8 planes delayed in part by government shutdown, WSJ reports
A software fix for the flight control system in the 737 Max aircraft was delayed, in part, by the 35-day federal government shutdown that began December 22, 2018 and lasted until January 25, 2019, the Wall Street Journal reported.
From the WSJ:
A software fix to the MCAS flight-control feature by the FAA and Boeing had been expected in early January, but discussions between regulators and the plane maker dragged on, partly over differences of opinion about technical and engineering issues, according to people familiar with the details. Officials from various parts of Boeing and the FAA had differing views about how extensive the fix should be. U.S. officials have said the federal government's recent shutdown also halted work on the fix for five weeks.
CNN reached out to Boeing and the company is declining to comment.
10:40 a.m. ET, March 13, 2019
Ethiopian Airlines "black box" recorders will be sent to Europe for analysis
The "black box" data recorders recovered from Ethiopian Airlines Flight 302 will "definitely be going to Europe", though they haven't decided which country yet, says airline spokesman Asrat Begashaw to CNN.
A decision on exactly where the "black box" will go is expected Wednesday night or Thursday, Begashaw added.
When pressed about which "black box" or if he meant both black-box recorders, the Ethiopia Airlines spokesman did not differentiate between the two. Both the Digital Flight Data Recorder (DFDR) and the Cockpit Voice Recovered (CVR) were recovered at the start of the week, the airlines said in a statement issued Monday.
Ethiopian Airlines CEO Tewolde GebreMariam told CNN's Richard Quest on Tuesday that Ethiopia's Ministry of Transport would work with the United States, where Boeing is based, to find a place outside the country to examine the black-box data. Ethiopia does not have the necessary equipment to perform those tasks on its own, GebreMariam added.
The nature of the black-box recorders cannot be overstated, says CNN's Richard Quest. "The single most impart part of the investigation at the moment is the black boxes, because they have the answer to what happened."
Quest also highlights that Ethiopian Airlines have not yet spoken out about the condition of the black boxes.  
10:30 a.m. ET, March 13, 2019
Norwegian Air demands Boeing compensate it for grounded 737 Max planes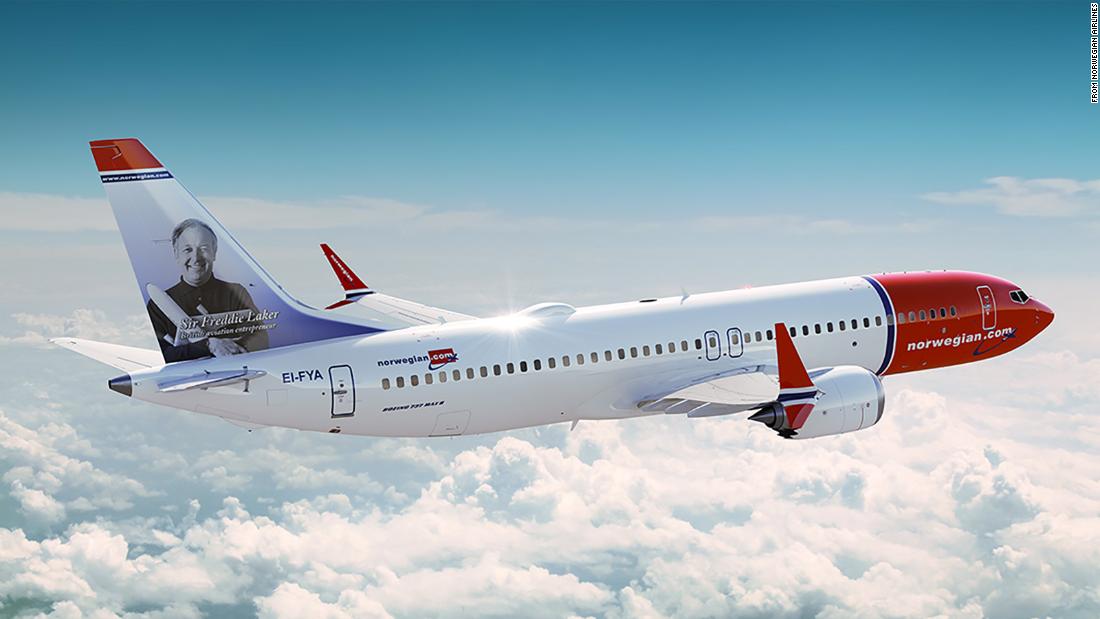 European discount carrier Norwegian Air is seeking compensation from Boeing for its grounded fleet of 737 Max 8 jets.
Why this matters: Norwegian is the first airline to say publicly it will demand that Boeing pay for lost flight time. It is expected other airlines will follow suit.
Norwegian has eighteen 737 Max 8 planes in its fleet, mostly for trans-Atlantic flights between Europe and the East Coast of the United States. The airline has ordered more than 100 of the 737 Max 8 planes.
"It is quite obvious we will not take the cost related to the new aircraft that we have to park temporarily," said Norwegian CEO Bjørn Kjos in a recorded message to customers.
"We will send this bill to those who produce this aircraft."
Kjos apologized to customers affected by the grounding of the planes and said passengers would be taken care of by combining flights, reallocating aircraft and rebooking customers on other airlines. He said Norwegian lost just 1% of the airline's seat capacity because of the grounding, and he hoped the planes would be back in the air soon.
10:39 a.m. ET, March 13, 2019
There were just 33 737 Max 8s in the air this morning — most of them over North American skies
Boeing's 737 Max 8 is operating in an ever-shrinking geographic area as country after country has grounded the plane or banned it from flying overhead. And this map shows what's left.
Earlier this morning, there were just 33 of the airplanes spotted on Flightradar24, a popular flight tracker.
The vast majority of them were in the US, over its waters, or in the Caribbean.
And they are being operated by just four carriers -- American Airlines, Air Canada, Southwest Airlines, United Airlines -- all of them headquartered in North America.
The FAA maintains it has found no systematic performance issues that would provide a basis to order grounding the aircraft, nor have any of its civil aviation partners around the world. "If any issues affecting the continued airworthiness of the aircraft are identified, the FAA will take immediate and appropriate action," Acting FAA Administrator Daniel K. Elwell said Tuesday night.
9:52 a.m. ET, March 13, 2019
Vietnam's VietJet just ordered 200 Max planes. It's waiting to decide what to do next.
VietJet says it will wait for Vietnam's aviation authority to make a conclusion on the Boeing 737 Max before deciding if it will use the 200 planes it recently purchased.
Some background: In February, Vietjet inked a $12.7 billion deal with Boeing for 100 737 Max planes which was witnessed by President Trump and Vietnam's Communist Party General Secretary and President Nguyen Phu Trong as part of a bilateral summit in Hanoi. 
In a press release dated Feb. 27, VietJet said the company had signed a previous order in 2016 for 100 Boeing 737 Max jets, bringing the total of planes on order to 200.
VietJet released a statement on its Facebook page Wednesday saying that it is closely monitoring the accidents and incidents involving the Boeing 737 Max aircraft.
Earlier on Wednesday, the Civil Aviation Authority of Vietnam (CAA) announced it would not grant new license for the use of Being 737 Max aircraft and had neutralized the current licenses.
10:34 a.m. ET, March 13, 2019
These airlines are still flying Boeing 737 Max 8s
Multiple airlines and dozens of countries have grounded Boeing 737 Max 8s following Sunday's deadly crash in Ethiopia.
But not all Max 8s are out of the air. Here's a look at who is still flying Max aircraft:
American Airlines: The US carrier has 24 737 Max 8 aircraft in its fleet and says it has no plans to ground them at the moment."At this time there are no facts on the cause of the accident other than news reports," the airline said in a statement. "We have full confidence in the aircraft and our crew members, who are the best and most experienced in the industry."
Southwest Airlines: The US carrier has 34 of the aircraft in its fleet and says it does not plan to change its operational policies or procedures. "We remain confident in the safety and airworthiness of our fleet of more than 750 Boeing aircraft," read a statement from the airline.
United Airlines: Also a US airline, United doesn't operate any Max 8s, but it does fly 14 737 Max 9s — a longer version of the Max 8. The Max 9 has never crashed, but It was included in an FAA emergency airworthiness directive following the Lion Air tragedy.
Flydubai: Flydubai operates 11 Boeing 737 Max 8s, and says it "remain(s) confident in the airworthiness of our fleet." "We are monitoring the situation and continue to be in touch with Boeing... The safety of our passengers and crew is our first priority," the airline said in a statement.
WestJet: Canadian airline WestJet says it has 13 Max 8 aircraft and a total of 121 Boeing 737s in its fleet. "We are monitoring the situation closely and will not speculate on the cause of the incident," the airline said in a statement. "WestJet remains confident in the safety of our Boeing 737 fleet including our 13 Max-8 aircraft first introduced in 2017."