Boeing 737 Max 8 planes grounded after Ethiopian crash
11:00 a.m. ET, March 12, 2019
Ethiopian Airlines plane had "flight control problems," airline CEO says
The pilots of the doomed Ethiopian Airlines flight told air traffic control they were having "flight control problems" before the crash, airline CEO Tewolde GebreMariam told CNN's Richard Quest Tuesday.
That suggests the plane was not responding to pilots' inputs and they were losing control of the aircraft, Quest explains.
GebreMariam said the flight data recorders "will be sent overseas," rather than being read in Ethiopia, which does not have the technical capability to do it. He did not say where, specifically, they would be read.
Pilots were aware of airworthiness directive issued after the Lion Air crash in October and had had additional training, he said.
10:40 a.m. ET, March 12, 2019
British carrier TUI grounds all Boeing 737 MAX 8s
TUI Airways -- one of the UK's largest air carriers -- just issued a statement confirming that all of its 737 MAX 8 aircraft operating in the UK have been grounded.
That decision follows guidance from the UK regulatory authorities, the carrier said.
It added, "Any customers due to fly home today on a 737 MAX 8 from their holiday will be flown back on another aircraft. Customers due to travel in the coming days will also travel on holiday as planned on other aircraft. The safety and wellbeing of our customers and staff has remained our primary concern."
10:34 a.m. ET, March 12, 2019
MAX 8 planes on their way to the UK are now turning back
When the UK announced a ban on all Boeing 737 MAX jets this morning, some of the MAX 8 jets were already en route to land at UK airports or travel through UK airspaces.
At least least two of those flights now appear to be turning back.
Turkish Airlines 1997 was en route from Istanbul to London Gatwick when it changed course: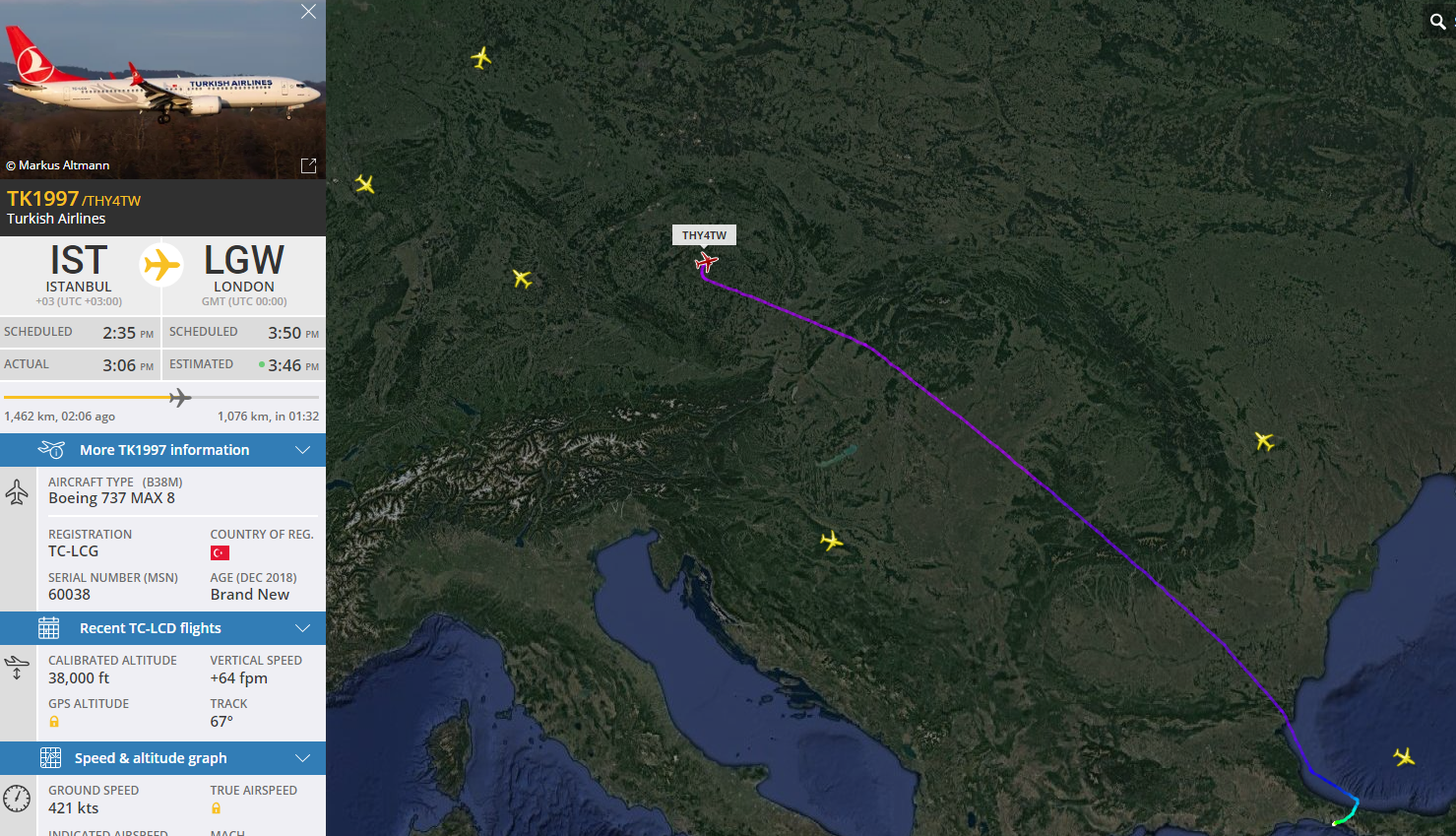 And Turkish Airlines 1969 was on its way to Birmingham from Istanbul: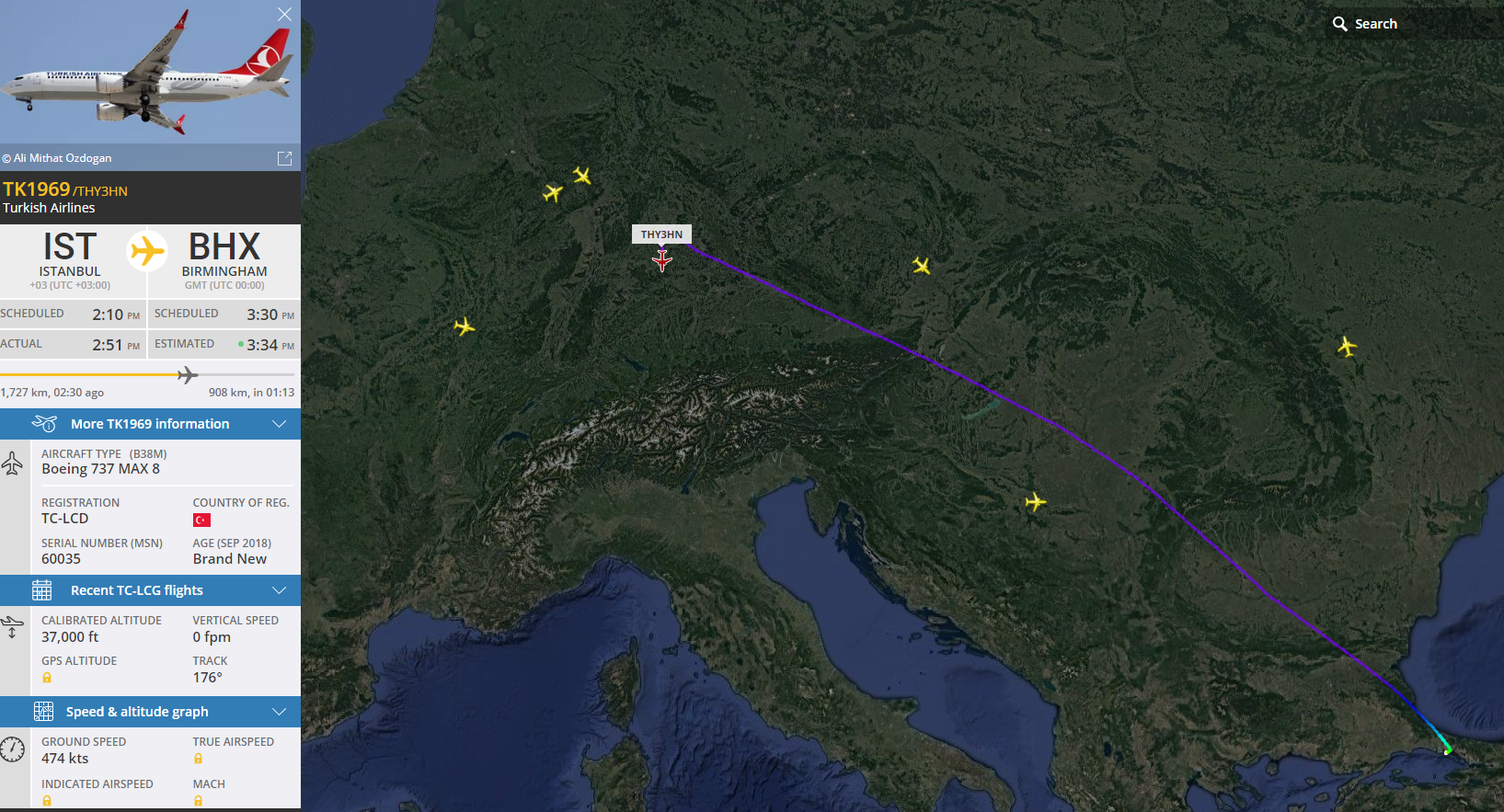 10:26 a.m. ET, March 12, 2019
NTSB visited Ethiopia crash site today
The US National Transportation Safety Board visited the Ethiopian Airlines crash site today, according to Ethiopian Civil Aviation Authority official Amdeye Ayalew.
The Nairobi, Kenya-bound plane went down within minutes of taking off from Addis Ababa.
The crash killed 157 people, seven of them crew members and one a security official.
10:19 a.m. ET, March 12, 2019
3 senators call on FAA to ground Boeing 737 MAX 8
Sen. Mitt Romney, in a tweet, is calling for the FAA to ground the Boeing 737 MAX 8. He's the first Republican senator to say the aircraft that was involved in two recent crashes should be grounded. 
He joins Sens. Richard Blumenthal and Dianne Feinstein.
See the tweet:
What Blumenthal said:
"All Boeing 737 Max 8s should be grounded until the FAA can assure American travelers that these planes are safe.... These planes must be grounded immediately, and airlines should work expeditiously to minimize disruption and accommodate customers whose travel is impacted."
What Feinstein said:
"Until the cause of the crash is known and it's clear that similar risks aren't present in the domestic fleet, I believe all Boeing 737 Max 8 series aircraft operating in the United States should be temporarily grounded. This aircraft model represents only a small fraction of the domestic fleet, and several other countries have already taken this important step, including China and Indonesia."
10:15 a.m. ET, March 12, 2019
Brazil's GOL Linhas Aereas suspends MAX 8 flights
Brazil's GOL Linhas Aereas just announced on Twitter that it is temporarily suspending commercial operations of its Boeing 737 MAX 8 aircrafts.
10:09 a.m. ET, March 12, 2019
Norwegian Airlines suspends operations of Boeing 737 MAX
Norwegian Airlines just released a statement, saying it is temporarily suspending its use of the Boeing 737 MAX.
Tomas Hesthammer, Norwegian's acting Chief Operating Officer, apologized to customers, saying, "Safety will always remain our top priority."
Here's the full statement:
"Following the decision by the relevant aviation regulatory bodies to temporarily suspend operations of Boeing 737 MAX, Norwegian will not operate any flights with this aircraft type until further notice. We remain in close dialogue with the aviation authorities and Boeing, and follow their instructions and recommendations.
Norwegian has more than 110 Boeing 737–800 aircraft in its fleet, which is not affected by this temporary suspension.
We would like to apologise to customers who will be affected by temporary cancellations and delays, but the safety and security of our customers and colleagues will never be compromised, and once authorities advise to cease operations we will of course comply.
Tomas Hesthammer, Norwegian's acting Chief Operating Officer said: "In response to the temporary suspension of Being 737 MAX operations by multiple aviation authorities we have taken the decision to not operate flights using this aircraft type until advised otherwise by the relevant aviation authorities. We would like to apologise to customers for any inconvenience caused, however, safety will always remain our top priority."
10:14 a.m. ET, March 12, 2019
Trump: "Airplanes are becoming far too complex to fly"
As more airlines and countries ground Boeing 737 Max 8 planes in the wake of the Ethiopian Airlines crash, President Trump tweeted about the state of air technology -- notably, that things are becoming too complicated.
"Airplanes are becoming far too complex to fly. Pilots are no longer needed, but rather computer scientists from MIT," the President tweeted.
In a second tweet finishing the thought, the President said modern airlines' "complexity creates danger," and, "I don't know about you, but I don't want Albert Einstein to be my pilot."
10:03 a.m. ET, March 12, 2019
UK banned all Boeing MAX jets — but some are already en route
The United Kingdom has banned all Boeing 737 Max planes from departing, arriving or being in its airspace.
But there are two 737 Max 8 planes currently in its airspace:
Icelandair 555, en route from Brussels to Keflavik, Iceland
Icelandair 471, en route from London Gatwick to Keflavik, Iceland
There are also planes en route to cities in the UK:
Thomson 485, en route from Marrakech to Manchester
Turkish Airlines 1969, en route from Istanbul to Birmingham
Turkish Airlines 1997, en route from Istanbul to London Gatwick