Boeing 737 Max 8 planes grounded after Ethiopian crash
12:45 p.m. ET, March 12, 2019
Turkish Airlines grounds all Boeing 737 MAX aircraft 
Turkish transportation and infrastructure ministry said in a statement Tuesday that it is grounding all Boeing 737 MAX type aircraft following the two crashes of this type of a plane.
The Turkish Civil Aviation Authority has reviewed the two incidents with the aircraft and has decided to ground the plane from operating in Turkey.
"As a result of the review, the flights of Boeing 737 Max 8 and/or 9 type aircraft have been suspended until a further decision is announced as a precaution in order to ensure flight safety," Turkish transportation and infrastructure ministry said in the statement.
Turkish transportation spokesperson told CNN when asked for more clarification about this decision, "This decision grounds the aircraft being operated by Turkish companies in Turkey. Turkey has not closed off it's airspace to the aircraft, but it is still on the table and is being reviewed."
Turkish Airlines spokesperson, Yahya Ustun, tweeted Tuesday, "The 12 Boeing 737 MAX type passenger aircraft in our fleet have been grounded for commercial operations until further notice."
1:05 p.m. ET, March 12, 2019
Netherlands suspends Boeing 737 MAX 8 aircraft
The Dutch Aviation Authority has ordered its airspace closed for Boeing 737 MAX 8 aircraft, according to Roel Vincken, a spokesman for the Dutch Minister of Infrastructure and Water management.
12:43 p.m. ET, March 12, 2019
Key GOP senator with aviation oversight says he would "prefer" not to fly Boeing's 737 MAX 8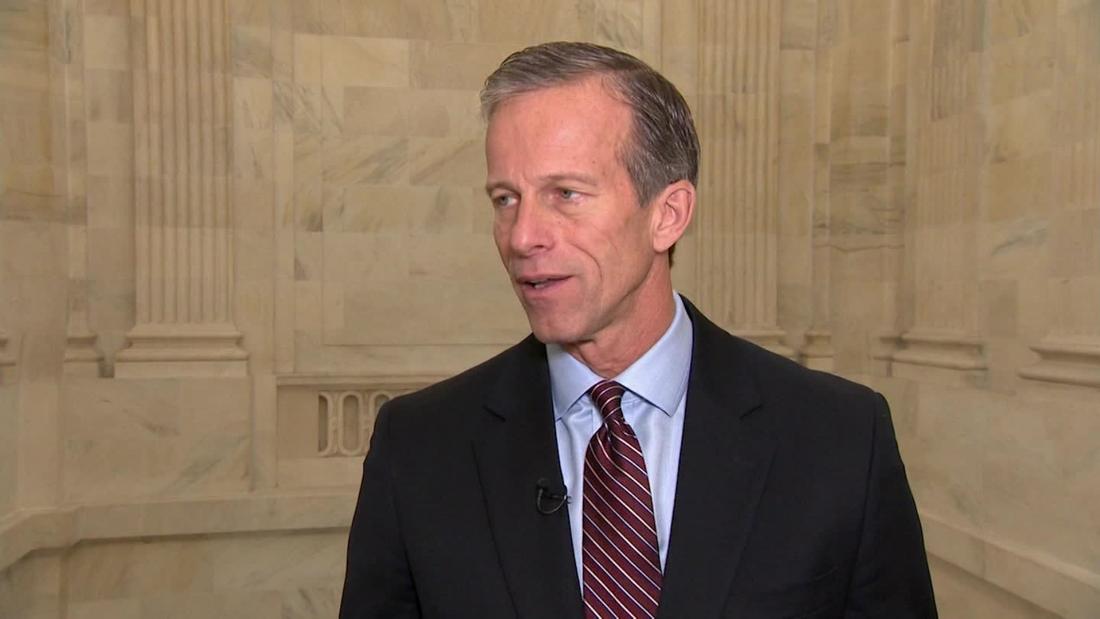 Republican Sen. John Thune — who has oversight of the aviation industry and the FAA as a member of the Aviation subcommittee of the Commerce and Transportation Committee — said Tuesday he would "prefer flying on some other plane" rather than Boeing's 737 MAX 8.
Thune, who is also a the second-ranking Senate Republican leader, seemed to suggest he would be open to grounding the planes if the evidence pointed to it, but stopped short of saying the planes should be grounded at this point unless and until an NTSB investigation finds there is a problem with the plane. 
He said he will also wait for the investigation before considering hearings in his subcommittee. He said he has not talked to anyone at Boeing about his concerns. 
Reporter: Would you safe flying a Super Max 8 right now? Would you fly on it?
Senator Thune: "Uhh…well, I guess I would uh, probably like everybody else, prefer flying on some other plane."
...
Reporter: Do you think Boeing should ground those planes?
Thune: "I think we need to wait until the investigation, until we have more evidence."
Reporter: So you're saying they should investigate more before grounding?
Thune: "I think we need to know what the facts are and hopefully we'll know those soon."
Note: This post originally referred to Thune as chair of the subcommittee. He is in fact a member -- Sen. Ted Cruz is the chair.
12:06 p.m. ET, March 12, 2019
Iceland and Germany join list of countries deciding to ban 737 MAX 8 aircraft
Germany and Iceland have both joined other countries in introducing suspensions of Boeing's 737 MAX 8 aircraft, following the fatal crash of an Ethiopian Airlines flight on Sunday.
German Transport Minister Andreas Scheuer will close the airspace for the Boeing 737 MAX 8, a Transport Ministry spokesperson told CNN on Tuesday.
Icelandic airline Icelandair also confirmed they are to suspend the aircraft in tweets sent to customers from their official account on Tuesday.
11:56 a.m. ET, March 12, 2019
France's aviation authority bans Boeing 737 MAX aircraft from its airspace
France's DGAC civil aviation authority says it has decided to ban Boeing 737 MAX aircraft from French airspace, according to a statement:
"French airline companies do not have Boeing 737 MAX in their fleets. Nevertheless, given the circumstances of the accident in Ethiopia, the French authorities took the decision, as a precautionary measure, to prohibit any commercial flight carried out on a Boeing 737 Max to, from, or over French territory."
11:54 a.m. ET, March 12, 2019
Flight attendants union tells FAA both crew and passengers are "expressing concerns" about the MAX 8
The president of the Association of Flight Attendants sent a letter to the Acting Administrator of the FAA advising the agency that both crew and passengers "are expressing concerns about the 737 MAX 8."
White stating that the union supports the investigative process and cautions the public "to avoid drawing conclusions prior to uncovering the facts of the incident," Sara Nelson writes that "the second accident in less than five months involving the same model airplane gives rise to concerns and a quick jump to conclusions that undermine full confidence in the aircraft type."
"We encourage the relevant authorities to take steps immediately to address concerns and ensure the safety of the 737 MAX fleet," the letter asks.
See it: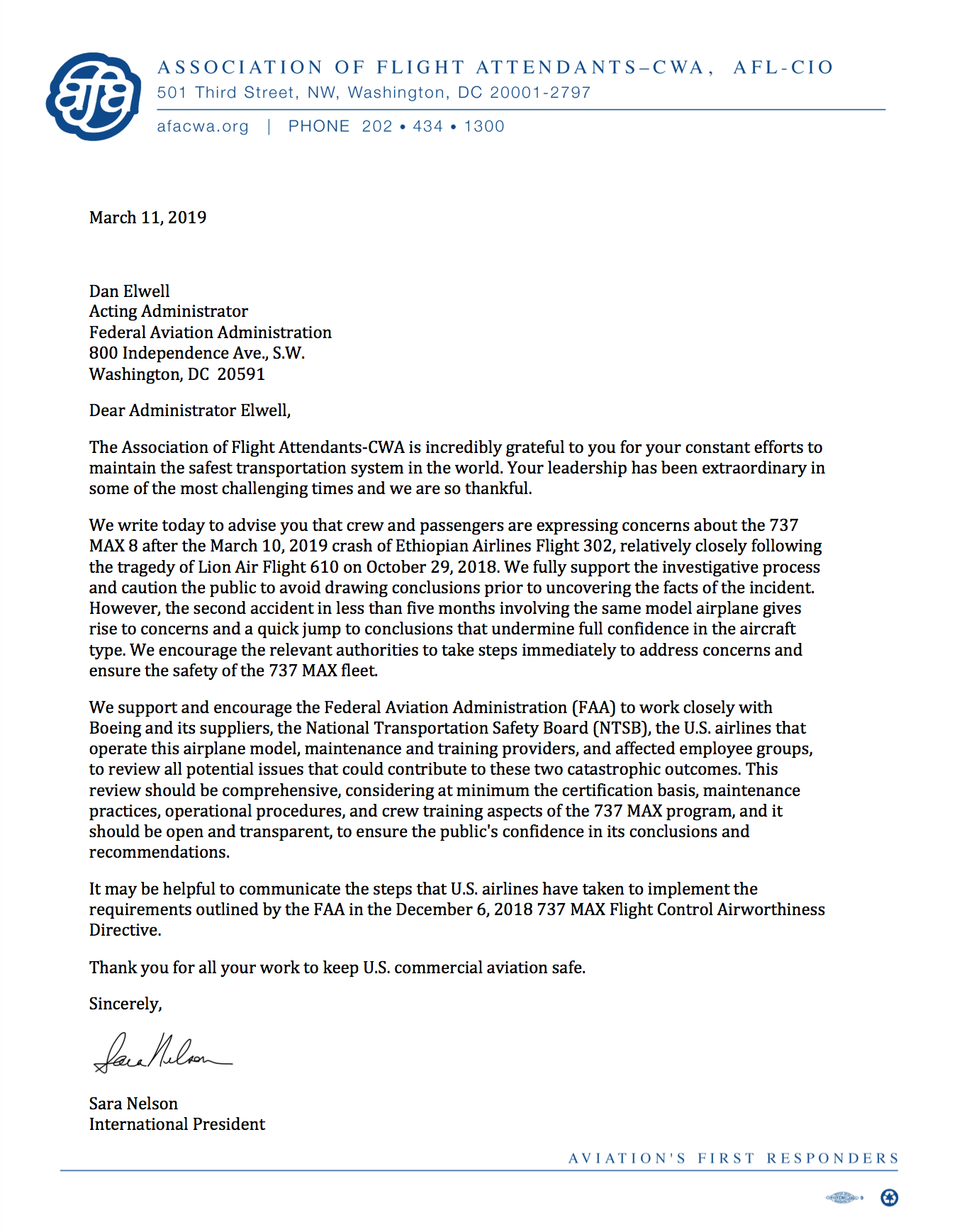 11:37 a.m. ET, March 12, 2019
Ireland temporarily suspends Boeing 737 MAX aircraft
The Irish Aviation Authority has temporarily suspended Boeing 737 MAX aircraft from Irish airspace, according to a statement from the organization.
The suspension went into effect at 11 a.m. ET on Tuesday. 
"During the temporary suspension, the IAA will continue to work closely with the European Aviation Safety Agency (EASA), the US Federal Aviation Authority (FAA) and the manufacturer Boeing," the statement also said.