Boeing 737 Max 8 planes grounded after Ethiopian crash
1:42 p.m. ET, March 12, 2019
European Union to suspend all Boeing 737 MAX aircraft at 3 p.m. ET
The European Union is suspending all operations of all Boeing 737 MAX aircraft in Europe beginning at 3 p.m. ET, according to a statement.
Read their statement:
"As a precautionary measure, EASA has published today an Airworthiness Directive, effective as of 19:00 UTC, suspending all flight operations of all Boeing Model 737-8 MAX and 737-9 MAX aeroplanes in Europe."
"In addition EASA has published a Safety Directive, effective as of 19:00 UTC, suspending all commercial flights performed by third-country operators into, within or out of the EU of the above mentioned models."
The announcement follows a growing tide of European countries that grounded or banned the airplane from flying overhead.
1:35 p.m. ET, March 12, 2019
Flight attendant union now calls for 737 MAX fleet to be grounded
The president of a major flight attendant union on Tuesday called for the Federal Aviation Administration to temporarily ground the Boeing 737 MAX fleet "until FAA-identified fixes to the plane can be installed, communicated, and confirmed."
"This is about public confidence in the safety of air travel," Sara Nelson, president of the Association of Flight Attendants-CWA, said in a statement. 
"The United States has the safest aviation system in the world, but Americans are looking for leadership in this time of uncertainty. The FAA must act decisively to restore the public faith in the system. Again, we caution everyone to not jump to conclusions and not interrupt the integrity of the investigations."
She called the FAA's notice "insufficient considering the legitimate fear and uncertainty following two deadly accidents involving this aircraft." The FAA notice, which was issued on Monday, said it would require "design changes" to the plane by April.
Aviation regulators in more than a dozen other countries grounded the 737 MAX 8 after one crashed in Ethiopia this weekend, the second of this model to crash in less than six months. None of the major US-based carriers are among the sixteen individual airlines worldwide that have suspended using this model of plane.  
1:09 p.m. ET, March 12, 2019
Austria, Poland and Italy are the latest to ground 737 MAX 8s
Austria, Poland and Italy have all suspended the use of Boeing 737 MAX aircraft in the aftermath of the Ethiopian Airlines crash.
Austria announced the suspension of Boeing 737 MAX aircraft over the apparent "massive problems" with the fleet, a statement from Austria's Transport Minister Norbert Hofer said on Tuesday. Hofer added that "safety is a top priority" and the decision to ground the aircrafts was made "on the basis of the facts currently available."
Italy said it was grounding all Boeing 737 MAX 8 aircraft as of 9 p.m. Tuesday (4 p.m. ET) over the "continuing lack of definite information" since the fatal Ethiopian Airlines crash on Sunday, according to a statement from the Italian Civil Aviation Authority (ENAC) on Tuesday. 
The Polish national carrier LOT also said on Twitter: "In connection with the decision of subsequent #LOT aircraft agencies, LOT flights with the Boeing # 737MAX8 are suspended until further notice." "Connections as far as the fleet is concerned will be carried out using other types of aircraft," LOT spokesperson Adrian Kubicki tweeted.  
12:59 p.m. ET, March 12, 2019
Southwest pilots union is "extremely confident" in MAX 8's safety
Jonathan Weaks, the president of the Southwest Airlines Pilots Association, says the union is "extremely confident" that the 737 MAX is safe. He says he's being in discussions with the airline and other unions.
Here's part of his statement:
 "I have been in numerous conversations today with Southwest Vice President of Flight Operations Captain Alan Kasher, who informed me that the MAX aircraft has 17,000 recordable parameters and Southwest has compiled and analyzed a tremendous amount of data from more than 41,000 flights operated by the 34 MAX aircraft on property, and the data supports Southwest's continued confidence in the airworthiness and safety of the MAX." 
Weaks also said he would put his family, friends and loved ones on any Southwest flight, but that he has lobbied for training to "evolve and improve."
The note indicates that the union asked for some of the changes Boeing plans to implement. He also warns that if new information comes to light that the union "will not hesitate to hold any organization or person accountable."
12:45 p.m. ET, March 12, 2019
Turkish Airlines grounds all Boeing 737 MAX aircraft 
Turkish transportation and infrastructure ministry said in a statement Tuesday that it is grounding all Boeing 737 MAX type aircraft following the two crashes of this type of a plane.
The Turkish Civil Aviation Authority has reviewed the two incidents with the aircraft and has decided to ground the plane from operating in Turkey.
"As a result of the review, the flights of Boeing 737 Max 8 and/or 9 type aircraft have been suspended until a further decision is announced as a precaution in order to ensure flight safety," Turkish transportation and infrastructure ministry said in the statement.
Turkish transportation spokesperson told CNN when asked for more clarification about this decision, "This decision grounds the aircraft being operated by Turkish companies in Turkey. Turkey has not closed off it's airspace to the aircraft, but it is still on the table and is being reviewed."
Turkish Airlines spokesperson, Yahya Ustun, tweeted Tuesday, "The 12 Boeing 737 MAX type passenger aircraft in our fleet have been grounded for commercial operations until further notice."
1:05 p.m. ET, March 12, 2019
Netherlands suspends Boeing 737 MAX 8 aircraft
The Dutch Aviation Authority has ordered its airspace closed for Boeing 737 MAX 8 aircraft, according to Roel Vincken, a spokesman for the Dutch Minister of Infrastructure and Water management.
12:43 p.m. ET, March 12, 2019
Key GOP senator with aviation oversight says he would "prefer" not to fly Boeing's 737 MAX 8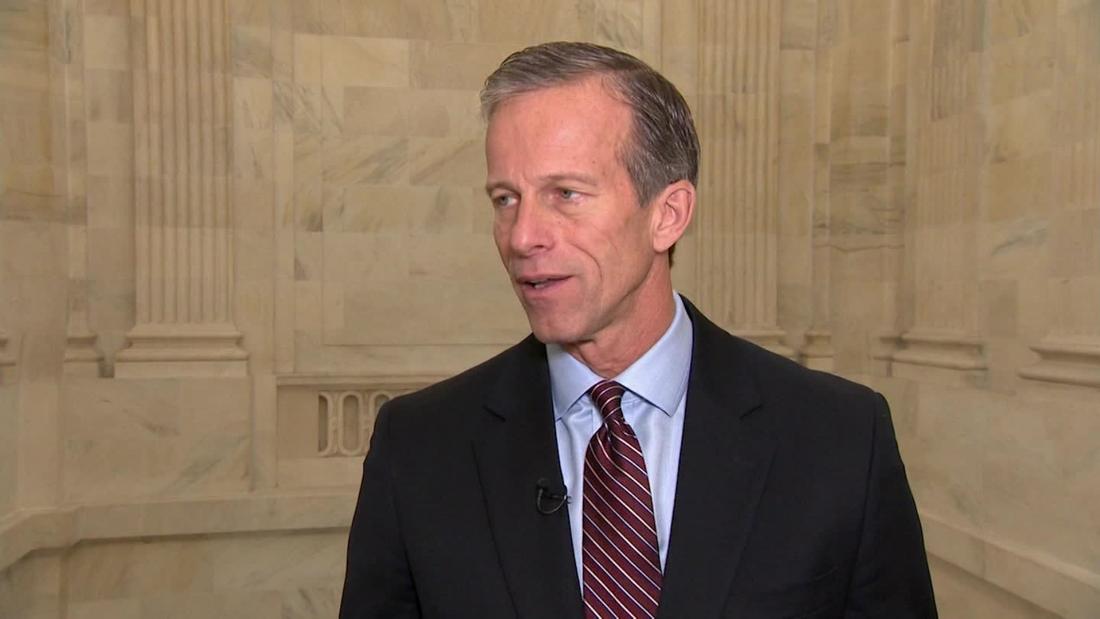 Republican Sen. John Thune — who has oversight of the aviation industry and the FAA as a member of the Aviation subcommittee of the Commerce and Transportation Committee — said Tuesday he would "prefer flying on some other plane" rather than Boeing's 737 MAX 8.
Thune, who is also a the second-ranking Senate Republican leader, seemed to suggest he would be open to grounding the planes if the evidence pointed to it, but stopped short of saying the planes should be grounded at this point unless and until an NTSB investigation finds there is a problem with the plane. 
He said he will also wait for the investigation before considering hearings in his subcommittee. He said he has not talked to anyone at Boeing about his concerns. 
Reporter: Would you safe flying a Super Max 8 right now? Would you fly on it?
Senator Thune: "Uhh…well, I guess I would uh, probably like everybody else, prefer flying on some other plane."
...
Reporter: Do you think Boeing should ground those planes?
Thune: "I think we need to wait until the investigation, until we have more evidence."
Reporter: So you're saying they should investigate more before grounding?
Thune: "I think we need to know what the facts are and hopefully we'll know those soon."
Note: This post originally referred to Thune as chair of the subcommittee. He is in fact a member -- Sen. Ted Cruz is the chair.
12:06 p.m. ET, March 12, 2019
Iceland and Germany join list of countries deciding to ban 737 MAX 8 aircraft
Germany and Iceland have both joined other countries in introducing suspensions of Boeing's 737 MAX 8 aircraft, following the fatal crash of an Ethiopian Airlines flight on Sunday.
German Transport Minister Andreas Scheuer will close the airspace for the Boeing 737 MAX 8, a Transport Ministry spokesperson told CNN on Tuesday.
Icelandic airline Icelandair also confirmed they are to suspend the aircraft in tweets sent to customers from their official account on Tuesday.
11:56 a.m. ET, March 12, 2019
France's aviation authority bans Boeing 737 MAX aircraft from its airspace
France's DGAC civil aviation authority says it has decided to ban Boeing 737 MAX aircraft from French airspace, according to a statement:
"French airline companies do not have Boeing 737 MAX in their fleets. Nevertheless, given the circumstances of the accident in Ethiopia, the French authorities took the decision, as a precautionary measure, to prohibit any commercial flight carried out on a Boeing 737 Max to, from, or over French territory."