Boeing under scrutiny after Ethiopian crash
3:49 p.m. ET, March 14, 2019
Our live coverage has concluded, but you can catch up on the latest developments surrounding the 737 Max 8 aircraft below:
12:38 p.m. ET, March 14, 2019
French aviation agency tweets photo of Ethiopian plane's mangled flight data recorder
The Bureau of Enquiry and Analysis for Civil Aviation Safety (BEA) in Paris has tweeted a picture of the Flight Data Recorder (FDR), provided by the Ethiopian investigation team.
11:53 a.m. ET, March 14, 2019
Trump says Boeing has to "figure it out fast"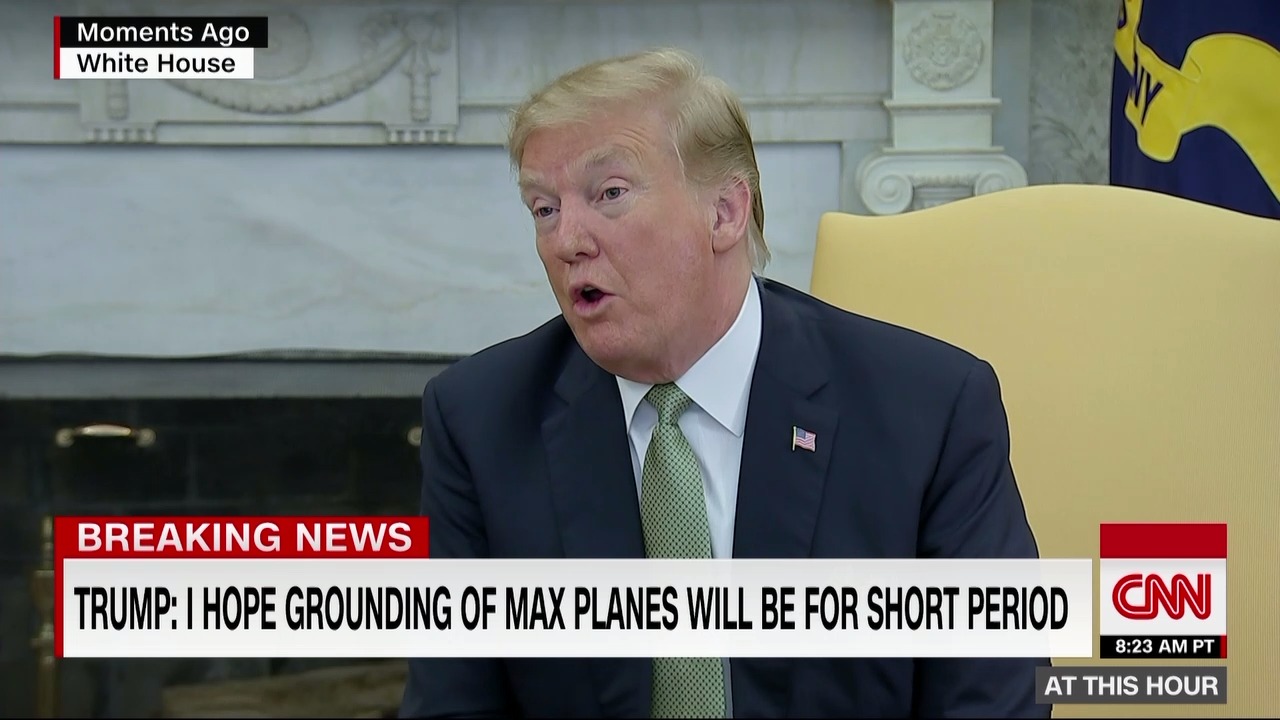 President Donald Trump called his decision to ground Boeing's 737 MAX planes a "big decision" and said that Boeing has to quickly find a solution.
"They have to find out what it is. I'm not sure that they know, but I thought we had to do it. We had to take a cautionary route," Trump said. "They have to figure it out fast."
"The grounding of the planes was a big thing," Trump said.
Trump still praised Boeing as "one of the truly great companies of the world" and noted that they are one of the US's "largest exporters."
11:50 a.m. ET, March 14, 2019
UN letter recommends staff not fly on Boeing Max planes
A UN official says the United Nations is recommending staff not fly on Boeing 737 Max series aircraft. 
An Ethiopian Airlines plane crashed Sunday killing everyone on board, including 21 UN staff. Most of the UN personnel were headed to a UN conference in Nairobi.
The advisory, which came in a letter sent before the US demanded the planes grounded, came from the UN staff and security division. It said that UN personnel should not be booked on the aircraft by UN travel units.
A UN official says if a UN staffer was booked on such a flight they can get assistance in rebooking. The decision was taken out of an abundance of caution until investigations determine what caused the crash.
See it: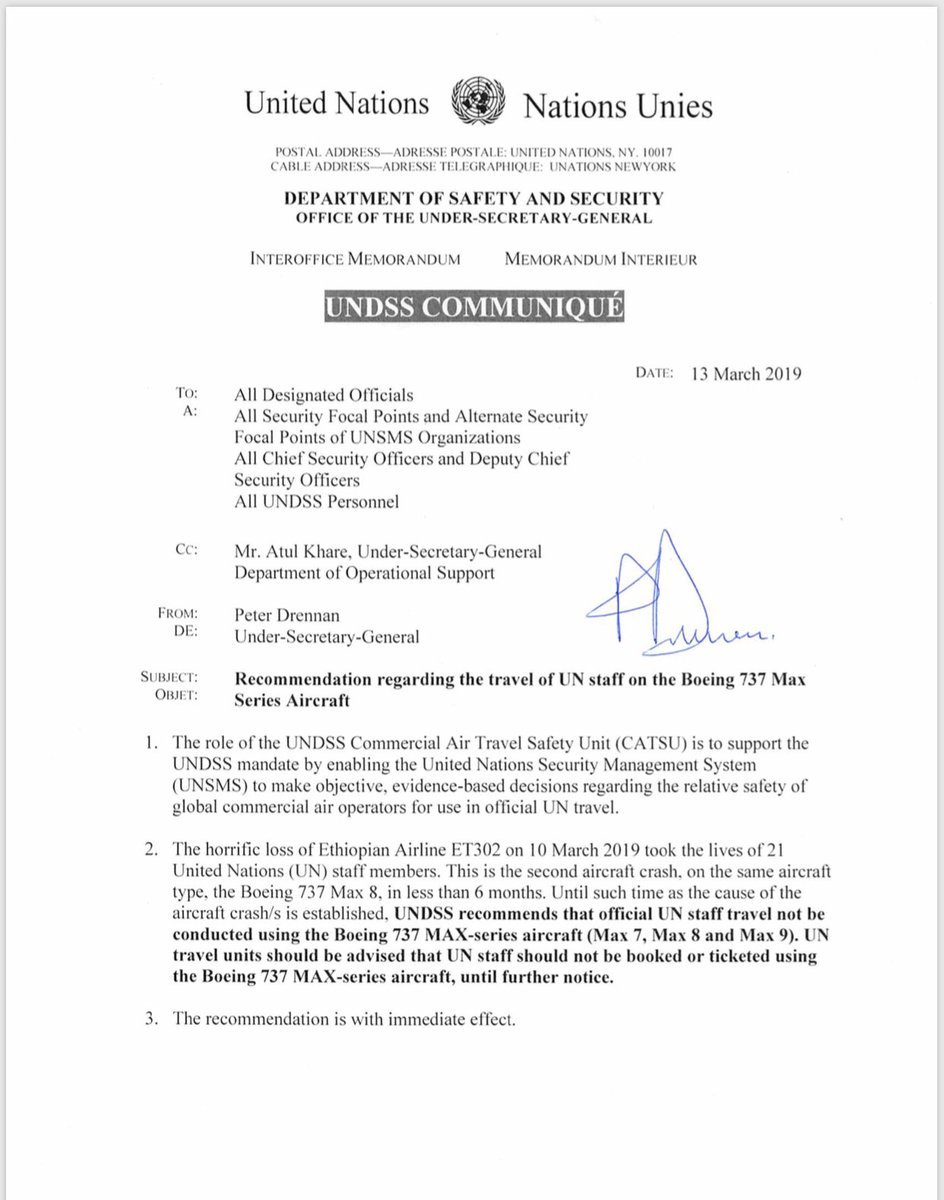 10:03 a.m. ET, March 14, 2019
Senator says the FAA should be "ashamed and embarrassed" for its slow response
Senator Richard Blumenthal, who called forcefully this week for the grounding of the Boeing aircrafts as country after country made the decision to do that on their own, condemned the FAA for its slow response and called for an investigation.
Calling it the "right decision but unacceptably overdue," Blumenthal told reporters the US "should be leading not lagging in air safety."
"I believe there needs to be an investigation to determine who knew what when and why they failed to act earlier," he said. "It's not only a black eye, it's a punch in the gut to the FAA that it was behind the rest of the world in basic safety. The FAA should be ashamed and embarrassed by its lagging and lagging response to this crisis in the skies which will create a confidence crisis for the FAA."
9:53 a.m. ET, March 14, 2019
Boeing stock continues to slide
Markets just opened in the US, and Boeing's stock continued to slide.
Shares fell a half percentage point Thursday after the FAA grounded all 737 Max jets. The grounding comes after Sunday's fatal Ethiopian Airlines crash — the second accident involving a 737 Max jet in nearly six months.
3:35 p.m. ET, March 14, 2019
What it was like to be on a Max 8 when the ban was announced
Millions of passengers have flown on Boeing's Max planes in the past two years without even realizing it. But in the days between Sunday's Ethiopian Airlines crash and Wednesday's decision to ground the jets in the U.S., many people were well aware of the aircraft type they were traveling on.
Passenger Jenny Meads said she was "nervous" when she boarded a flight in Oakland and learned she was on a Max 8 plane. She only became aware of it when she saw the plane's safety pamphlet in the seat pocket.
CNN affiliate KPRC reporter Vincent Crivelli tweeted mid-flight from a Boeing 737 Max 9 plane that was flying from Houston to San Francisco. He photographed the safety pamphlet about the aircraft, which was one of the types grounded.
This post has been updated to remove a reference that misidentified a passenger aboard a plane as being on a 737 Max 8.
7:36 a.m. ET, March 14, 2019
The last Boeing 737 Max 8 in the skies
The final Max 8 plane still flying landed in Halifax in Nova Scotia, Canada, around eight hours ago, according to popular aircraft-tracking site FlightRadar24.
It was an Air Canada flight from San Francisco that took off shortly before President Trump announced that the U.S. would be grounding all Boeing Max jets.
Today, the world's skies are completely empty of the jet that, just three and a half years ago, Boeing said would take the 737 model "to the next level of performance."
Whether and when the Max series will fly again remains to be seen -- you can read about the jet's maiden flight in 2016 here.
7:28 a.m. ET, March 14, 2019
Which airlines have outstanding orders for the 737 Max?
Boeing's 737 Max series, now steeped in controversy and grounded around the world, is the fastest-selling model in the history of the firm. The company has delivered 376 Max planes to airlines -- but a further 4,636 from around the world are unfulfilled, according to Boeing's latest reports.
What happens to those orders is a crucial question, and one that is undoubtedly being discussed by carriers already. While some airlines will have the luxury of time before making a decision on their orders, others are expecting new planes -- which they are currently unable to fly -- to be delivered in the coming weeks and months.
American Airlines has 76 Max planes still to be delivered, United is expecting 123, and Southwest -- which already flew more Max jets than any other carrier -- is awaiting 249 more. In addition, several US companies that buy planes and lease them out to carriers have placed orders for more than 100 planes.
Ethiopian Airlines, which suffered Sunday's crash, still has 25 Max planes on order. Lion Air, whose Max jet went down in October, has 187 on order.
In Europe, budget carrier Ryanair is awaiting all 135 of its Max orders. TUI Airways -- one of the UK's largest air carriers -- saw its fleet of 14 Max planes grounded this week, but it must make a decision on its 58 orders.
A full list of Boeing's deliveries and orders for its Max planes can be found here.