2:49 p.m. ET, March 6, 2020
Infectious disease experts urge Americans age 60 and older to reconsider their usual activities
During the outbreak of the novel coronavirus in the United States, two top infectious disease experts with close ties to the federal government are advising people age 60 and older and people with underlying health issues to strongly consider avoiding activities that involve large crowds, such as traveling by airplane, going to movie theaters, attending family events, shopping at crowded malls and going to religious services.
Dr. William Schaffner, a Vanderbilt University professor and longtime adviser to the US Centers for Disease Control and Prevention, said people in these two groups "should strongly consider not doing these activities at this juncture." 
"This ought to be top of mind for people over 60, and those with underlying health problems, such as heart or lung disease, diabetes, or compromised immune systems," he added.
"I think clearly the time has come to take these steps," said Michael Osterholm, a former state epidemiologist for Minnesota, who has served on committees advising the federal government on public health issues.
Both experts were speaking personally, and not as a representative of any government group.
Both Schaffner and Osterholm, who are over age 60, say they have taken some of these steps themselves.
Take note: The CDC has not advised anyone to take such steps, but on its website the agency mentions that "social distancing" – restricting where people go and limiting large crowds – "can help slow the spread" of the novel coronavirus.
1:52 p.m. ET, March 6, 2020
More people died of coronavirus in Italy today than any other previous day
The death toll from novel coronavirus in Italy surged today, marking the highest daily increase since the start of the virus outbreak in the country. 
Angelo Borrelli, head of the Italian Civil Protection Agency, said today that 49 people had died in the last day, bringing the country wide death toll to 197.
The total number of confirmed cases in Italy rose by 778 on Friday, bringing the total number in the country to 4,636. 
Borrelli said the median age of the people who have died from the virus in Italy is 81 years of age.
1:51 p.m. ET, March 6, 2020
Chile confirms its 5th case of coronavirus
Chile's Health Ministry confirmed its fifth case of novel coronavirus today, an increase of one, according to a written statement. 
The 58-year-old patient who tested positive is a relative of the third confirmed case of coronavirus in the country. They had both recently traveled to northern Italy, the epicenter of the outbreak in Europe, the ministry said.
Despite presenting symptoms associated with a mild respiratory condition, the patient is in good health and was sent home, where he will remain under medical observation, health officials said. 
12:34 p.m. ET, March 6, 2020
At least 33 people in New York state test positive for coronavirus
At least 33 people have tested positive for coronavirus across the state of New York, Gov. Andrew Cuomo said moments ago at a press conference.
That number is up from 23 that CNN previously reported. 
Five of the 33 people are currently hospitalized and they are improving, Cuomo said.
"This is like a flu on steroids," he added.
Cuomo said at least 4,000 people are under a "precautionary quarantine." This means they were in the proximity of someone that may have tested positive, returned back from travel from a level 2 or 3 country and aren't showing symptoms.
12:21 p.m. ET, March 6, 2020
3 people who attended a biotech meeting in Massachusetts have coronavirus
Three people who attended a meeting last week at Biogen Headquarters in Cambridge, Massachusetts, have tested positive for the coronavirus, according to the company.
The patients "are doing well, improving and under the care of their healthcare providers," the biotech company said in a statement. 
The company says any Biogen employee who attended the meeting have been directed to work from home for two weeks. 
Here is the full statement from Biogen: 
Following a meeting with Biogen employees in Boston last week, a number of attendees reported varying degrees of flu-like symptoms. Some attendees have been confirmed with influenza and three attendees have tested positive for COVID-19 to date. At the present time, these individuals are doing well, improving and under the care of their healthcare providers.   
Protecting our employees and our communities is our priority. 
Biogen has been in regular contact with the relevant public health officials since the time the first cases of illness were reported.   
In an abundance of caution, all meeting attendees, with or without flu-like symptoms, have been directed to work from home for two weeks. We are regularly communicating with all employees and directed all employees who are not feeling well to stay home and contact their healthcare provider as necessary.
Additionally, we are taking precautionary measures to do our part in mitigating the spread of illness – including restricting travel through the end of March. We continue to closely monitor the situation.
11:45 a.m. ET, March 6, 2020
This hand sanitizer company is increasing production during the coronavirus outbreak
GOJO Industries is ramping up production of PURELL products in response to coronavirus, the company said today.
GOJO Industries has "increased production significantly" for PURELL following an increased demand for hygiene products, including hand sanitizer, hand soap, hand sanitizing wipes, and surface disinfectant spray, a company spokesperson said.
"We have a demand surge preparedness team that runs in the background all the time, who have been fully activated and are coordinating our response to the increase in demand," said Samantha Williams, GOJO Corporate Communications Senior Director.
She added that the company has experienced several demand surges in the past during other outbreaks and while this is on the higher end of the spectrum, it is not unprecedented.
11:28 a.m. ET, March 6, 2020
Indiana reports its first presumptive coronavirus case
Indiana Governor Eric Holcomb announced the first presumptive positive case of coronavirus in the state as he declared a public health emergency.
The individual traveled to Boston and was exposed during that trip, according to officials. They are calling this case an isolated case. 
The person is now isolated at Community Hospital North in Marion County.
11:28 a.m. ET, March 6, 2020
Trump's top economic adviser says they are considering assistance for people impacted by coronavirus
National Economic Council Director Larry Kudlow said Friday that the White House is considering small "timely and targeted micro forms of assistance" for Americans impacted by the novel coronavirus.
"The news I was trying to put out this morning is we're not looking at these massive, federal, throw money at people plans. We are looking at timely and targeted (efforts) where we can do the most good," Kudlow said.
Kudlow did not offer many more details, saying he'd give "more details later."
Kudlow also said the administration has been looking into "operations that would provide immediate cash assistance" through a variety of federal agencies.
Talking about the dip in the market due to the coronavirus, Kudlow said the administration was considering those "micro forms of assistance" because "we think we will get out of this, within months."
Asked for his message to Americans who may have to miss multiple paychecks due to illness or quarantine, Kudlow plainly said, "We will help them."
11:09 a.m. ET, March 6, 2020
CNN's Coronavirus: Fact vs Fiction podcast is answering your latest questions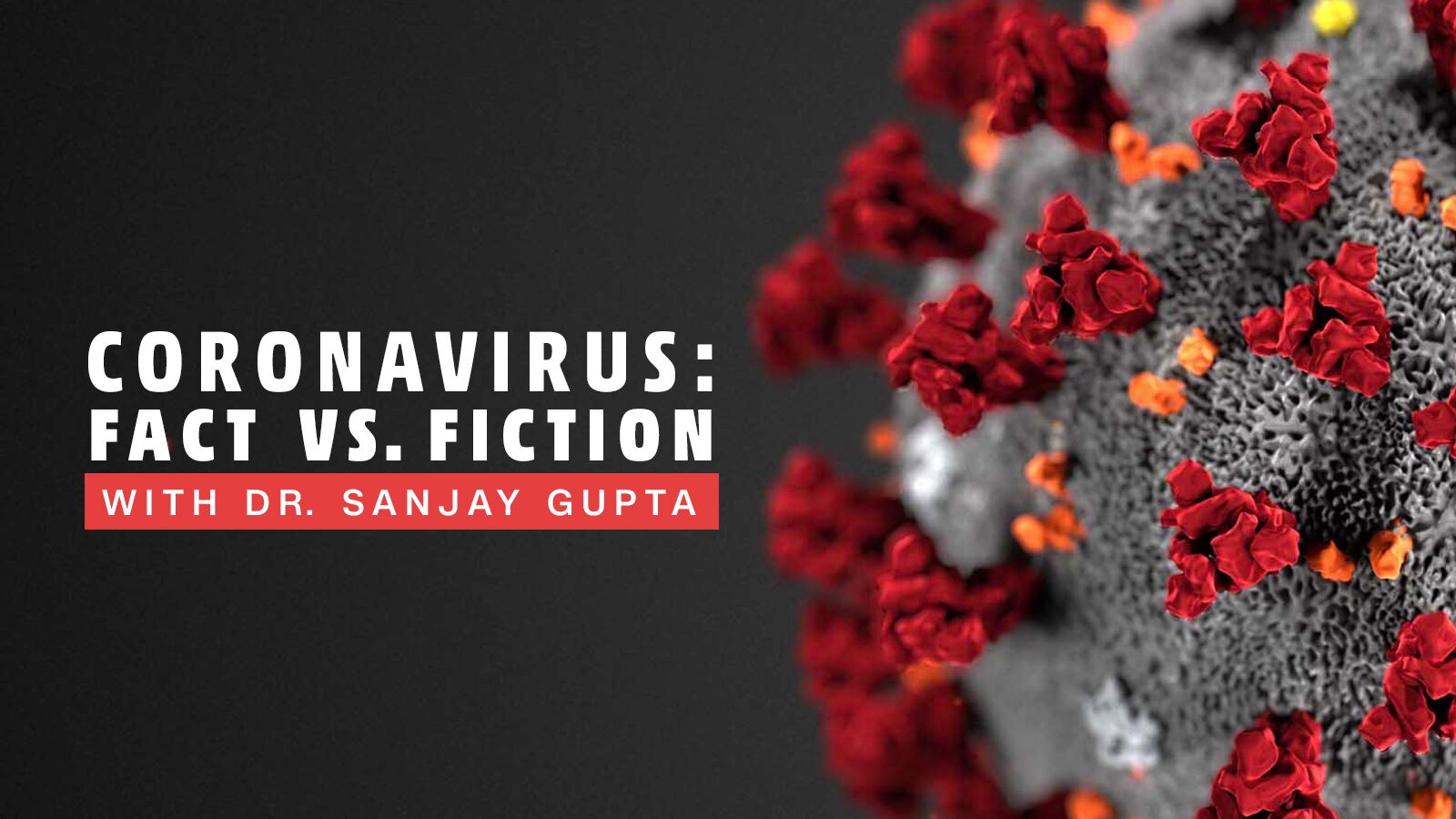 Each day, CNN Chief Medical Correspondent Dr. Sanjay Gupta is breaking down the latest news about the coronavirus on the Coronavirus: Fact vs Fiction podcast.
In today's episode, he's joined by CNN Anchor Anderson Cooper. They speak with top health experts and answer pressing audience questions as part of a special town hall on the global impact of the coronavirus.