March 22 coronavirus news
7:24 a.m. ET, March 22, 2020
With deaths rising and "hard days ahead," Spain readies for extended state of emergency
Spanish Prime Minister Pedro Sanchez has been in meetings with health and security officials on Sunday morning, as Spaniards prepare for a possible extension of their country's state of emergency.
Sanchez is expected to address the nation in a televised speech later on Sunday.
It comes with the country's death toll from the virus accelerating. The country's health ministry said on Sunday that another 394 had died in just the past 24 hours, bringing the total number of confirmed fatalities to 1,720.
"There are hard days ahead," Sanchez said in a televised briefing on Saturday. "We have to get ready from a physiological and emotional standpoint. We have to get to the end of next week strong, very strong. The risk is everywhere."
Spain has been locked down and placed in a state of emergency since Friday March 13. The period was initially expected to last 15 days, but cases in the country continue to soar as that deadline approaches.
Emergency hospitals have been set up across the country, while residents have been urged to stay indoors and normally busy streets are deserted.
Almost 25,000 cases have been reported in total, with a drastic spike of 5,000 new cases reported on Saturday.
"Spain is among the most-affected countries in Europe and in the world," Sanchez said on Saturday, adding that the worst is still to come.
In an effort to strengthen Spain's response to the health crisis, Sanchez announced the national production of masks, ventilators and tests. Meanwhile, the government has bought 640,000 reliable ratified fast tests, which will soon be 1 million, and within the next few hours 1.3 million masks will be handed to health personnel and patients, Sanchez said.
7:16 a.m. ET, March 22, 2020
Hong Kong cases spike again
Health officials in Hong Kong have confirmed another 44 cases of the novel coronavirus bringing the city-wide total to 317.
Out of the 44 new cases, 29 had recent travel history to countries in Europe as well as North America, according to Dr Chuang Shuk-Kwan of the Center for Health Protection. The 44 new cases represent the second largest single-day increase, after 48 cases were reported on Friday.
Of the 317 confirmed cases in the city, 100 patients have been discharged from hospital. Of the remaining patients still being treated in hospital, one patient is in critical condition.
7:01 a.m. ET, March 22, 2020
Echoes of 9/11, as New Yorkers "try to keep calm but we can't quite carry on"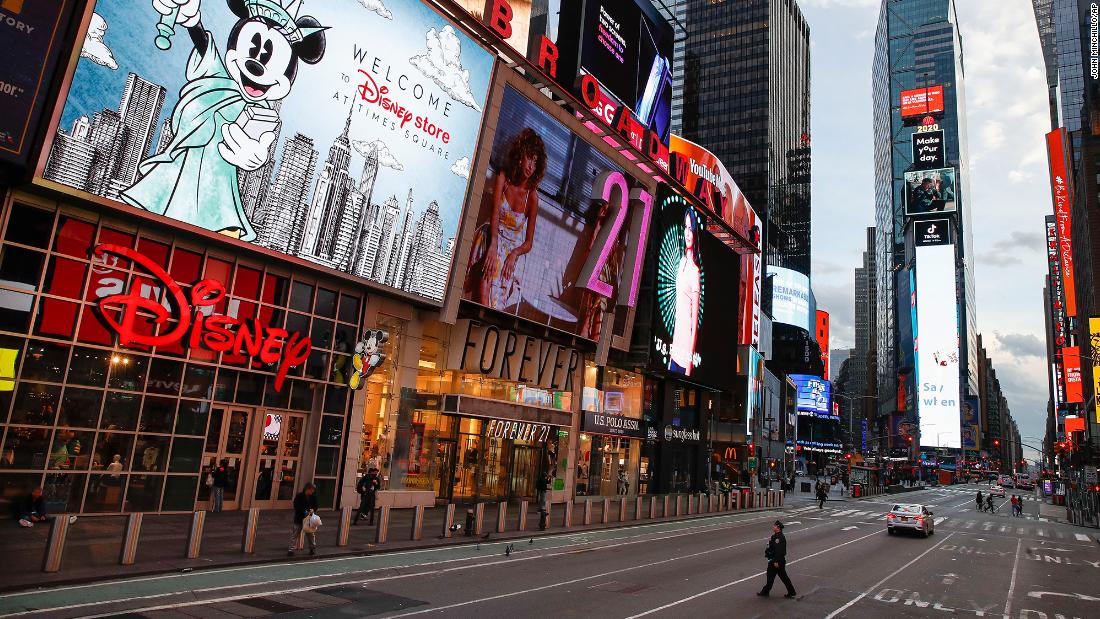 The gates outside the centuries-old chapel in the shadow of the old World Trade Center were padlocked as rush hour descended on Lower Manhattan's desolate streets.
"In care for our neighbors, parishioners, clergy, and staff, St. Paul's Chapel is canceling services and events until further notice due to the Coronavirus," read signs outside the Episcopal church on Thursday, referring visitors to online services.
The historic chapel, built in 1766, narrowly escaped being destroyed when the Twin Towers, across the street, collapsed on September 11, 2001. It became known as "The Little Chapel that Stood."
After the terror attacks, it provided refuge to tired rescue and recovery workers, who rested on its wooden pews. Notes, cards and other mementos to the dead sprouted for months from those wrought iron gates, now shuttered by the pandemic.
Nearly two decades after 9/11 forever changed New York City and the world, the coronavirus pandemic has upended day-to-day life in unprecedented ways -- disrupting schools, travel, entertainment, work and commerce.
"For me, in New York, it reminds me of 9/11, where one moment, which was inconceivable, just changed everything, changed your perspective on the world, changed your perspective on safety," said New York Gov. Andrew Cuomo, during one of his daily briefings on the mushrooming number of coronavirus cases.
6:22 a.m. ET, March 22, 2020
Coronavirus is bringing a plague of dangerous doomsday predictions
In the summer of 2008, an elderly psychic who claimed she started receiving premonitions at age 5 published a book that contained an ominous prediction.
"In around 2020, a severe pneumonia-like illness will spread throughout the globe, attacking the lungs and the bronchial tubes and resisting all known treatments," it said. "Almost more baffling than the illness itself will be the fact that it will suddenly vanish as quickly as it arrived, attack again ten years later, and then disappear completely."
The prediction faded from public memory and the book's author, Sylvia Browne, died in 2013. But the coronavirus pandemic has brought new attention to Browne's book, "End of Days: Predictions and Prophecies About the End of the World." It's shot up to number 2 on Amazon's nonfiction chart, and physical copies are now selling for hundreds of dollars.
Government and public health officials have issued all sorts of guidelines to help people protect themselves against the spread of Covid-19. But there's another contagion that experts seem helpless to stop: The plague of prophets warning that the coronavirus is a sign we're at the "end of days."
5:43 a.m. ET, March 22, 2020
German cases soar as Merkel considers lockdown
The number of coronavirus cases in Germany has increased by 1,948 in the past 24 hours to 18,610, according to the country's agency for disease control, the Robert Koch Institute.
That jump represents a 12% increase on Saturday's figures. Meanwhile, the number of deaths has increased by eight to 55.
The German government is considering a nationwide lockdown to combat coronavirus. Last week, two German states -- Bavaria and Saarland -- imposed state-wide restrictions to try to contain its spread.
German Chancellor Angela Merkel is set to meet state premiers later on Sunday to discuss further measures.
5:31 a.m. ET, March 22, 2020
The UK is just a couple of weeks behind Italy, Boris Johnson warns
UK Prime Minister Boris Johnson has warned that the country's NHS risks becoming "overwhelmed" by the coronavirus outbreak and that the situation in Britain is just two or three weeks behind Italy.
"The numbers are very stark, and they are accelerating. We are only a matter of weeks -- two or three -- behind Italy," Johnson said.
"The Italians have a superb health care system. And yet their doctors and nurses have been completely overwhelmed by the demand. The Italian death toll is already in the thousands and climbing.
"Unless we act together, unless we make the heroic and collective national effort to slow the spread -- then it is all too likely that our own NHS will be similarly overwhelmed," Johnson said.
"That is why this country has taken the steps that it has, in imposing restrictions never seen before either in peace or war."
Johnson's statement was released on Mother's Day in the UK. He is urging people to stay away from their mothers because of the virus – and instead ring them or video call them. Just a few days ago, however, Johnson himself said he hoped to see his own mother.
5:16 a.m. ET, March 22, 2020
Iran claims it's "strange" the US is offering us medication
Iran's supreme religious leader, Ayatollah Ali Khamenei refused any form of American aid for Iran's citizens on Sunday, claiming the US might be planning to use medication against Iran.
"Maybe the medication provided is also another tool to aggravate that disease, so we can never trust you," Khamenei, considered the highest authority in Iran, said, without evidence, in a speech delivered on Iran's national TV for the annual Persian new year.
He added it was "very strange" that the US is offering the country medication. "The US has shortages, they are facing acute shortages in terms of preventive tools," Khamenei added.
Every year, Khamenei appears in person to give the speech in the Iranian city of Mashhad. This year the speech was delivered remotely.
Iran is the worst-hit country in the Middle East with more than 20,000 cases and 1,500 deaths, according to the World Health Organization.
4:45 a.m. ET, March 22, 2020
Coronavirus is revealing how badly the UK has failed its most vulnerable
The past few weeks have shown that even the world's wealthiest and most powerful are as likely to contract the virus as anyone else. However, less attention is being paid to the most vulnerable members of society -- those in poverty, people living on the breadline and the homeless.
The problem reached a crunch point in the UK, which has dramatically increased its response to the virus outbreak this week. Food banks that provide a lifeline for some of the estimated 14 million in poverty are running low on volunteers, many of whom have been forced to self-isolate, as well as food itself, which is in short supply following panic-buying.
People working on the frontline in homeless shelters told CNN their worst nightmares were already coming true, with at least one facility forced to close after one of its users died from COVID-19. Most of the people in that shelter are now sleeping rough and may have come into contact with virus carriers.
The UK's homelessness problem: The situation is equally bleak for the UK's homeless population. Shelter, a non-profit that provides support for the UK's homeless population, estimates that the number of people sleeping on the streets has risen 165% since 2010.
That date is important. It's the year the UK went from having a center-left Labour government to a center-right Conservative-led administration. And in the wake of the 2007-2008 global financial crisis, it embarked on policies that radically cut state spending.
4:09 a.m. ET, March 22, 2020
The world's biggest "public curfew" exercise begins in India
Today, India is attempting the world's biggest social-distancing exercise. But for now, it will only last for 14 hours.
Why is it happening?
It's the latest attempt by the government to stall the rapid spread of Covid-19. It could also indicate that the government is testing the waters on whether an official curfew could actually be imposed across the country.
Prime Minister Narendra Modi has kept up a steady stream of tweets since early morning, asking citizens to stay inside. "The steps we take now will help in the times to come. Stay indoors and stay healthy," he said.
What India is like today:
Social media has been flooded with photographs of famous locations that are usually packed with people -- but today are eerily quiet.
In India, where staples like rice, flour and pulses have always been bought in bulk, the fear of a lockdown has spurred people to double their usual orders.
Local grocery shops -- seen on every street -- continue to operate but with fewer items on their shelves.
Modi has asked Indians to hold a salute to medical professionals, emergency health care provider and government officials on Sunday evening. Millions are expected to ring bells and clap to honor their work.
Who will be affected by the 'public curfew':
The people who will be most affected are those who depend on a steady daily wage to put food on the table -- including people who work as rickshaw pullers or street hawkers.
This is also a problem for shoppers. In a country where tinned food is almost non-existent, every household is dependent on the local hawkers who push carts piled with vegetables each morning through the neighborhood.
What's the bigger picture in India:
More than 320 people have contracted coronavirus in India.
In the past few weeks, India has taken unprecedented steps to shut down its borders, cancel visas and ban passengers from certain countries from entering Indian airspace.