March 23 coronavirus news
12:49 p.m. ET, March 23, 2020
World Health Organization: "The pandemic is accelerating"
World Health Organization Director-General Tedros Adhanom Ghebreyesus warned the coronavirus "pandemic is accelerating," in a tweet on Monday.
Tedros said there are more than 300,000 cases of coronavirus across the world.
"It took 67 days from the first reported case to reach the first 100,000 cases, 11 days for the second 100,000 and just four days for the third 100,000," he laid out.   
12:40 p.m. ET, March 23, 2020
There are more than 40,000 coronavirus cases in the US
There are at least 40,069 cases of novel coronavirus in the United States, according to CNN Health's tally of US cases that are detected and tested in the United States through US public health systems. At least 472 people have died.
The total includes cases from all 50 states, the District of Columbia and other US territories, as well as all repatriated cases.
12:43 p.m. ET, March 23, 2020
US Senate Democratic leader: "We are very close to reaching a deal" on coronavirus bill
US Senate Minority Leader Chuck Schumer said a bipartisan deal could be reached shortly on the coronavirus bill.
"We are very close to reaching a deal. Very close. And our goal is to reach a deal today and we're hopeful, even confident, that we will meet that goal," said Schumer, who spoke after Majority Leader Mitch McConnell.
Schumer argued that McConnell is setting "arbitrary vote deadlines" by continuing to set up procedural votes when a bipartisan deal has not yet been reached, downplaying the failed vote yesterday by emphasizing that the real action is the ongoing talks, not procedural votes.
Schumer noted he is meeting regularly with Treasury Secretary Steve Mnuchin and White House legislative director Eric Ueland to hash out a deal. "We hope and expect to conclude negotiations today," he said.
He called the bill they are discussing "the largest emergency funding bill in American history."
Schumer addressed the news that Sen. Amy Klobuchar's husband as well as Sen. Rand Paul have tested positive. "I want to let them know, both of them, that the Senate is thinking of them and praying for their speedy recovery," he said.
12:36 p.m. ET, March 23, 2020
WHO warns against using "untested drugs" in coronavirus response
As researchers continue seeking treatment options for Covid-19, the World Health Organization on Monday warned against using "untested drugs" to treat patients and running drug trials inappropriately. 
"Small, observational and non-randomized studies will not give us the answers we need. Using untested drugs without the right evidence could raise false hope and even do more harm than good and cause a shortage of essential drugs that are needed to treat other diseases," WHO Director-General Tedros Adhanom Ghebreyesus said during a press briefing on Monday.
"That's why WHO has launched the SOLIDARITY trial, to generate robust, high-quality evidence as fast as possible," Tedros said. "The more countries sign up to the trial and other large studies, the faster we will get results on which drugs work and the more lives we will be able to save." 
Last week, WHO and its partners launched an international clinical trial aimed at gathering and generating data on effective treatment options for Covid-19.
Currently, there is no known treatment for the disease caused by the novel coronavirus.
12:33 p.m. ET, March 23, 2020
Remote islands swamped by people trying to escape virus
With many people facing weeks largely confined to their homes in densely populated cities because of coronavirus, it's understandable that some have considered heading to more remote places in pursuit of freedom and fresh air.
But as recreational vehicles and other traffic have flooded into some of these rural destinations, those living there have reacted with alarm — urging people to stay away to avoid bringing infection and overwhelming limited health provisions.
The situation has been particularly acute in the Highlands region of Scotland, a largely unpopulated area whose rugged landscapes of mountains and islands is one of the most beautiful tourism attractions in the UK.
So much so that local officials are issuing warnings, telling people — including second homeowners — they are not welcome.
Read the full story here.
12:32 p.m. ET, March 23, 2020
New Jersey suspends elective surgeries starting Friday
New Jersey is suspending all elective surgeries and invasive procedures scheduled to take place after 5 p.m. ET Friday until further notice, Gov. Phil Murphy announced at a news conference Monday.
About the executive order: It "applies to all medical and dental operations that can be delayed without undue risk to the current or future health of the patient, as determined by the patient's physician or dentist."
12:25 p.m. ET, March 23, 2020
Maryland shuts down all nonessential businesses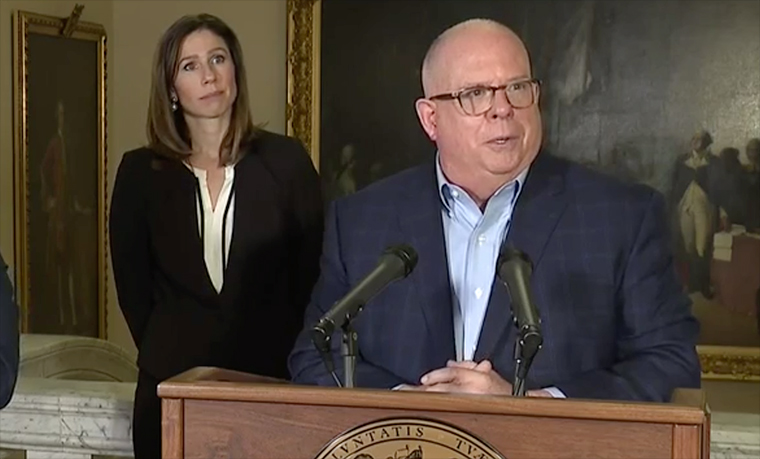 Maryland Gov. Larry Hogan is closing nonessential businesses as of 5 p.m. ET today, but he is not issuing a "shelter in place" order.
"We are telling you, unless you have an essential reason to leave your house you should stay in your homes," Hogan said Monday. 
Today's order shuts down all businesses considered non-critical infrastructure sectors as defined by federal guidelines issued last week.
12:20 p.m. ET, March 23, 2020
Florida will deliver more than 200,000 pieces of medical equipment to facilities across the state
Florida Gov. Ron DeSantis said today that in the next 48 hours the Department of Emergency Management will send out more than 200,000 personal protection equipment items to facilities across the state in response to the Covid-19 outbreak. 
The items include: 
Almost 60,000 N95 masks 
141,000 procedure masks 
Nearly 27,000 shields
22,000 gowns
28,000 gloves 
12:16 p.m. ET, March 23, 2020
Merkel tests negative in first coronavirus test
German Chancellor Angela Merkel has tested negative for coronavirus after taking a preliminary test. 
"The result of today's test is negative and further tests will be carried over the next few days," a spokesperson for the Chancellery has told CNN.
On Sunday, a spokesperson for Merkel said the chancellor will self-quarantine after coming into contact with a person who tested positive for coronavirus, and would be continually tested throughout.