May 21 coronavirus news
By Jessie Yeung, Adam Renton and Zamira Rahim, CNN
Updated
0228 GMT (1028 HKT) May 22, 2020
10:26 p.m. ET, May 21, 2020
Our live coverage of the coronavirus pandemic has moved here.
10:21 p.m. ET, May 21, 2020
China will not set a specific target for economic growth this year, Premier says
From CNN's Steven Jiang in Beijing
China will not set a specific target for economic growth this year, said Chinese Premier Li Keqiang at the 13th National People's Congress in Beijing. 
The NPC, China's top legislature, opened its third session on Friday morning.
The decision not to set a target is "because our country will face some factors that are difficult to predict in its development due to the great uncertainty regarding the Covid-19 pandemic and the world economic and trade environment," said Li, the country's second-in-command.
Not setting a specific target for economic growth would enable the government to focus more on achieving stability and security, he said.
Li added that China is expected to face great uncertain economic challenges following the pandemic, and that coronavirus was "the fastest spreading, most extensive, and most challenging public health emergency China has encountered since the founding of the People's Republic."
10:10 p.m. ET, May 21, 2020
CNN's town hall on the coronavirus has ended
CNN's global town hall on the coronavirus has now concluded.
Anderson Cooper and Dr. Sanjay Gupta were joined by top infectious disease expert Dr. Anthony Fauci and education experts, who discussed what it will take to get kids back in the classroom.
Plus, first lady Melania Trump shared a special message for students.
Check the Town Hall tab above to catch up on what happened during the show.
10:11 p.m. ET, May 21, 2020
Melania Trump shares words of encouragement for students coping with the pandemic
First lady Melania Trump thanked American students for keeping up their studies and helping to keep the country safe.
She acknowledged the many changes they've had to make during the coronavirus pandemic.
"Our the past two months, I know you have had to make many changes in your life. Many of you have had to attend classes in your homes and haven't been able to see your friends," Trump said.
The first lady went on to say she's proud of them.
"Those changes were not easy but you've been so strong and I am proud of the examples you have become," the first lady said in the prerecorded message aired during CNN's town hall on coronavirus Thursday. "Your determination to get through this will define your generation for years to come."
"So thank you for helping your families, your friends, your communities and our country to stay healthy and safe during these unusual times. Thank you for keeping up your studies and learning in new ways. As we navigate the days and weeks ahead, take care of yourself," she added.
Trump encouraged students to "use this time" to read a book, practice their favorite sports, help out at home and reach out to friends and family.
"These are important and healthy habits that we can all easily practice and they are a reminder that we will only get through this with patience, compassion and care," the first lady said.
"Please know that the President and I are with you during these challenging times and we continue to do everything we can to support you," she added.
Watch:
10:15 p.m. ET, May 21, 2020
The pandemic is "a historic moment" that children can persevere through, author says
Angela Duckworth, author of "Grit," has some words of encouragement for children who feel like they are missing out on life while the US adapts to the new normal caused by the pandemic.
"You're experiencing history. This is not going to be a sentence or a footnote in the history books. You're living through at least a paragraph, a full page or maybe a chapter in history. It's happening to everyone and it's hard. Kind of understanding that we are in a historic moment," Duckworth said Thursday during CNN's global coronavirus town hall. "You can't predict everything that's going to happen at least, but you can control your response to it. And you probably want to think, you know, when I grow up I'd like to look back at this chapter in history, and when I tell my grandchildren about it, I would love to tell them that I did my best and I managed it with a little bit of humor, some grace, some generosity."
More on Duckworth: She is a 2013 MacArthur Fellow and professor of psychology at the University of Pennsylvania. Duckworth is a co-founder of the Character Lab, a nonprofit whose mission is to advance the science and practice of character development in children. 
Watch:
10:03 p.m. ET, May 21, 2020
Most kids will face a "major disruption" in their education, says school psychologist 
New York school psychologist John Kelly joined CNN's ongoing town hall on the coronavirus to talk about the pandemic's impact on children and their education.
One viewer asked: Do you think there will be a major regression in children's education and what they learned in the first half of the school year?
"There is no doubt that there will be a major disruption to kids' education," Kelly said.
Schools are now having to make innovative changes to the way they operate to mitigate the impact, he added. "We are talking about reopening schools, setting up different strategies and systems of support ... making sure we are prepared to support students when we reopen."
Watch:
9:48 p.m. ET, May 21, 2020
Higher education expert explains how the pandemic is affecting America's student debt crisis
New York University marketing professor Scott Galloway joined CNN's global coronavirus town hall tonight to explain the difficult position college students find themselves in as the US economy limps along during the pandemic.
"We have raised tuition rates 1,400% over the last 40 years. This is a time of year that's supposed to be a nervous but a rewarding time of year where people figure out where they're going to school, and instead it's become a time of year where people try to imagine how they're going to take several thousand dollars on in-household debt," Galloway said.
Galloway contends that higher education has "raised prices faster than health care" while much of the university experience has remained largely the same.
"If you walked into a class today, it wouldn't look, feel or smell much different than it did 40 years ago. So I think we've stuck out the mother of all chins and the fist of Covid-19 is coming for us. I think this involves huge disruption and I think it starts this fall," he added.
Watch:
9:48 p.m. ET, May 21, 2020
The University of Notre Dame is reopening. Here's how they're doing it
Rev. John Jenkins, the President of the University of Notre Dame, joined CNN's ongoing town hall to discuss the college's plan to bring students back by August.
"If we do not have testing capacity, we will not open," he said at the town hall. "Everyone we have spoken to has given us confidence that we will ... I believe we will be there by the time we welcome students back."
Here's how they're doing it:
The university will set up facilities to isolate and quarantine any students that test positive for Covid-19.
They will restructure the classroom and interactions between faculty and staff to protect those more vulnerable to the virus.
They'll implement measures to minimize in-person meeting -- for instance, office hours may be conducted via videoconferencing apps like Zoom.
There are still some details to iron out -- for instance, what to do about sports games where people crowd together in stadiums -- but "our first priority is to get the kids in the classroom," Jenkins said.
Some context: While some campuses plan to cancel in-person classes through the fall, students at Notre Dame will return earlier than expected.
Notre Dame plans to bring students back on August 10, two weeks earlier than originally scheduled, Jenkins said.
The school near South Bend, Indiana, will also skip fall break and end the fall semester before Thanksgiving, it announced Monday. Health officials say the US could see a second wave of coronavirus infections in the fall.
Notre Dame, which has an enrollment of more than 12,000, sent students home in March to complete the 2019-20 spring semester via remote learning.
Watch:
9:40 p.m. ET, May 21, 2020
Danish school holds math lessons in local graveyard to abide by social distancing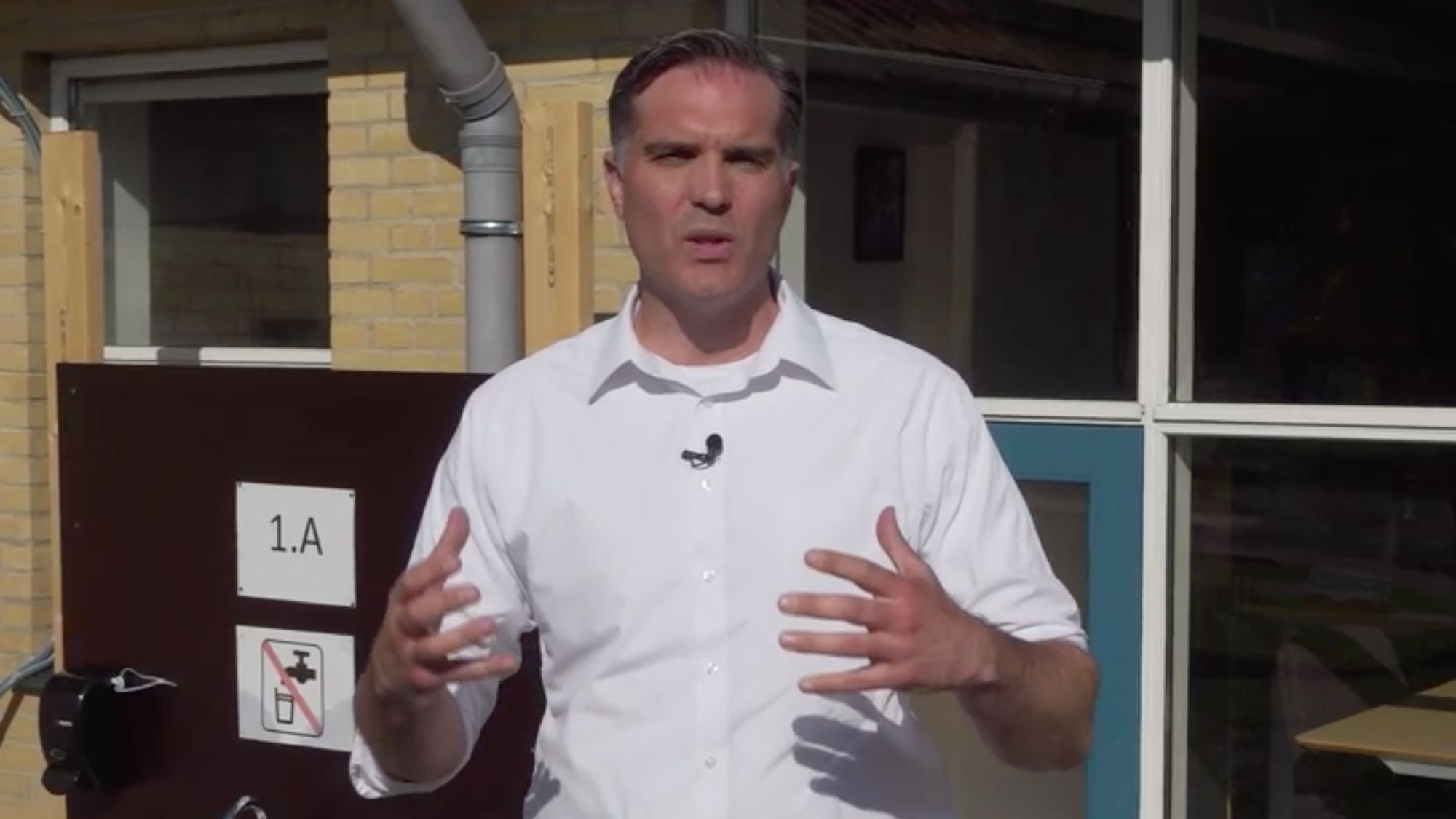 A Danish grammar school is holding some classes in a local church graveyard to follow social distancing guidelines because the numbers on gravestones can be used in math lessons.
CNN correspondent Frederik Pleitgen caught up with educators and students in Denmark during a segment aired tonight during the network's global coronavirus town hall.
"Because of the physical distancing measures they didn't have enough space for all the students to come back, so they actually moved some of their lessons into the local church. So math lessons from the church with the teacher standing in the pulpit, and they even do some of the lessons for statistics in the local church graveyard because there are a lot of numbers on all those headstones and the Danish government actually encourages that," Pleitgen said. "They say schools should do as many lessons as possible outside."
Watch: