On Sunday, two countries accounted for half of all new cases added worldwide, World Health Director Director-General Tedros Adhanom Ghebreyesus said during a media briefing in Geneva on Monday.
"Yesterday, 230,000 cases of Covid-19 were reported to WHO. Almost 80% of those cases were reported from just 10 countries, and 50% come from just two countries," he said.
Tedros did not name the countries, but according to a Johns Hopkins university tally of cases, the United States, India and Brazil accounted for more than 112,000 cases on Sunday.
"Let me be blunt: Too many countries are headed in the wrong direction," Tedros said.
"The virus remains public enemy number one," Tedros said. "But the actions of many governments and people do not reflect of this. "
Here's a look at the total number of confirmed cases by country: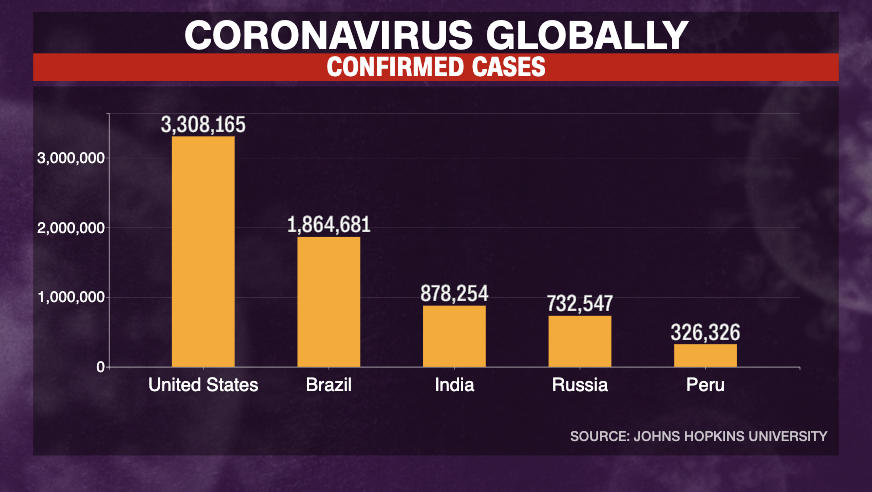 Tedros added that "mixed messages from leaders are undermining the most critical ingredients of any response: trust."
"If governments do not clearly communicate with their citizens and roll out a comprehensive strategy focused on suppressing transmission and saving lives. If populations do not follow the basic principles of physical distancing, hand washing, wearing masks," Tedros warned, "there is only one way this is going to go. It's going to get worse and worse and worse."
"But, it does not have to be this way," he said. 
"It's never too late to bring the virus under control, even if there has been explosive transmission," Tedros said. "WHO is committed to working with all countries."