12:34 a.m. ET, July 23, 2020
Our coverage of the coronavirus pandemic has moved here.
11:47 p.m. ET, July 22, 2020
Trump administration sends another $5 billion to nursing homes to fight coronavirus
From CNN's Tami Luhby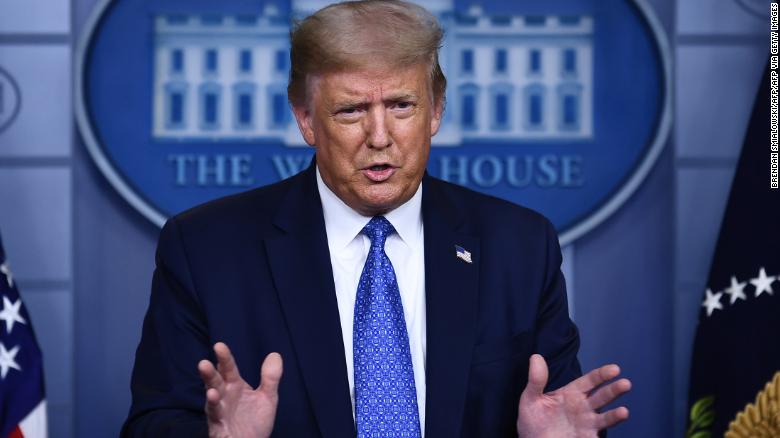 The Trump administration announced Wednesday that it is sending $5 billion to nursing homes and state veterans' homes to fight the growing coronavirus epidemic.
The money can be used to hire additional staff, implement infection control, increase testing and provide additional services, such as technology to allow residents to connect with their families.
The infusion comes from the provider relief fund contained in the $2 trillion coronavirus relief package that the US Congress passed in late March. It's in addition to the $4.9 billion nursing homes are receiving to offset revenue losses and to respond to the pandemic.
Nursing home staff must complete an online training program for a facility to receive the new funds.
The Centers for Medicare and Medicaid Services will also start requiring nursing homes in states with a 5% or greater coronavirus positivity rate to test all staff each week. This was previously a recommendation.
The administration announced last week that it is distributing rapid testing devices to nursing homes, which had complained that they don't have the money to conduct so many tests. More than 15,000 devices will be deployed in coming months, with more than 600 shipping this week.
The American Health Care Association and National Center for Assisted Living (AHCA/NCAL) said Wednesday that the increased funds are "a significant step forward," but more is needed, especially in light of the surge of cases around the country. 
"It is equally important for Congress to provide an additional $100 billion for the HHS Provider Relief Fund, which is accessible to all health care providers impacted by COVID-19," said CEO Mark Parkinson.
11:18 p.m. ET, July 22, 2020
Argentina reports record number of new coronavirus cases for the second day in a row
From CNN's Stefano Pozzebon in Bogota, Colombia
Argentina saw another record daily increase of new coronavirus cases Wednesday, according to its Health Ministry.
The ministry reported 5,782 newly confirmed cases, topping Tuesday's record of 5,344 new cases. Argentina's total confirmed cases stands at 141,900.
The ministry also reported 98 new deaths from the virus in the past 24 hours, bringing its death toll to 2,588.
10:44 p.m. ET, July 22, 2020
Brazilian Health Ministry says the coronavirus situation seems "under control" 
From journalist Marcia Reverdosa in Sao Paulo and Fernanda Wenzel in Porto Alegre
Brazil's interim health minister said Wednesday the coronavirus situation seems "under control," despite the country reporting a record number of new cases Wednesday.
In a press conference before the country's official daily Covid-19 numbers were released, interim Health Minister Eduardo Pazuello said, "The scenario seems to me to be under control," but recognized there are still "increasing cases" and claimed the increase was because of the weather.
"It is partly due to winter, of the social change in winter, and this causes the contamination to increase," he said.
There has previously been speculation that warmer weather would lessen the spread, specifically from US President Donald Trump early in the pandemic. However, health experts have said warmer weather is unlikely to stop the spread of Covid-19.
"Climate only would become an important seasonal factor in controlling COVID-19 once a large proportion of people within a given community are immune or resistant to infection," Francis Collins, the director of the National Institutes of Health, said in a blog post in early June, citing experts in infectious disease transmission and climate modeling.
Pazuello also said he was hopeful about the health system's capacity now that they have learned more from the outbreak.
"We have a real learning curve, we understand how to do it. Collapse situations have already occurred in the north and northeast, and today, the south and southeast of the country have an organized medical structure. We are in a position to give a more effective response and to not let the system collapse," he said.
The Health Ministry released Brazil's daily coronavirus numbers shortly after the press conference, reporting 67,860 newly confirmed cases, the country's highest daily toll since the outbreak began. The ministry also added 1,284 new deaths. 
Brazil's total number of Covid-19 cases is 2,227,514 and 82,771 total deaths.
9:53 p.m. ET, July 22, 2020
White House cafeteria staffer tests positive for Covid-19
From CNN's Kaitlan Collins
Administration officials were alerted tonight that a cafeteria employee on the White House grounds has tested positive for coronavirus, according to an email viewed by CNN. 
Ike's Eatery -- located in the Executive Office building -- and the cafeteria in the New Executive Office Building have both been temporarily closed, though the email cautioned that risk of transmission is low due to precautions like gloves and masks.
Those facilities are separate from the West Wing mess, but dozens of West Wing staffers walk to Ike's for meals. 
"There is no reason for panic or alarm," the email reads. 
 The email says they conducted contact tracing and claim no executive office staff need to quarantine due to exposure. 
9:16 p.m. ET, July 22, 2020
Fauci, Birx missing from Trump's coronavirus briefings because they can immediately fact check him, health expert says
From CNN Health's Shelby Lin Erdman
Leading health experts and White House coronavirus task force members Anthony Fauci and Deborah Birx have been noticeably missing from President Donald Trump's Covid-19 briefings because they can fact check what he says, Jonathan Reiner, a professor of medicine at George Washington University, told CNN's Kate Bolduan Wednesday.
"The President doesn't want doctors Fauci or Birx there because they are real time fact checkers," Reiner said. "Without them he can say things which are either misleading or out and out false."
Reiner used the example of Trump touting the improvement in the Covid-19 positivity rate.
"He said that in April the positivity rate was over 60% and now it's down to 8.5%. Well, that's sort of true, but what he didn't say is that it had gone down to as low as 4.3% in June but then, because of the premature opening of states, it then doubled," he said.
"So that's the kind of factchecking that, you know, White House reporters can do easily if Birx or Fauci come to the podium and the President just can't have that."
Reiner emphasized that the public actually needs to the blunt facts about the pandemic, "the unvarnished truth." 
"The truth is the truth, and the more the public understands, the better the public will adhere to, you know, prudent policy," he said. 
"So we need to see Fauci and Birx and Redfield back on the podium. Otherwise, it's just a political rout."
Trump resumed the White House coronavirus briefings this week, for the first time since late April.
9:07 p.m. ET, July 22, 2020
Mexico reports another 6,000 new coronavirus cases, nearly 800 new deaths
From journalist Karol Suarez in Mexico City
Mexico's Health Ministry reported 6,019 new Covid-19 cases Wednesday, bringing the country's total to 362,274.
Mexico has consistently reported 5,000 cases or more every day for the past eight days. 
The ministry also reported 790 new deaths from the virus, bringing its death toll to 41,190.
Mexico holds the fourth highest death toll from the virus worldwide, trailing the UK where the death toll is 45,586, according to Johns Hopkins University.
8:27 p.m. ET, July 22, 2020
Trump says he would take a coronavirus vaccine
From CNN's Nikki Carvajal
In a snippet of an interview set to air later Wednesday night, President Trump said he would either take a coronavirus vaccine first or last, but lamented that, "either way I lose on that, right?"
"You know the way it works," Trump said, in a clip that aired on Fox News. "If I'm the first one, they'll say 'he's so selfish that he wanted to get the vaccine first,' and then other people would say 'hey, that is a very brave thing to do.' I would absolutely, if they want to me to, if they thought it was right, I would take it first or I'd take it last."
"You do know if I take it first, I'll be – either way I lose on that, right?" Trump continued. "If I take it first. And if I don't take it, he doesn't believe in the program."
8:44 p.m. ET, July 22, 2020
Fact check: Trump suggests that kids don't easily transmit coronavirus. Here's what we know.
From CNN's Tara Subramaniam 
During Wednesday's briefing, President Trump continued to advocate for schools opening in the fall. In support of this he claimed that "a lot of people" say children "don't transmit" coronavirus. 
"They don't catch it easily, they don't bring it home easily," Trump added. "And if they do catch it, they get better fast."
Facts First: While children infected with coronavirus are less likely to develop severe symptoms than adults, not all "get better fast," like Trump claimed. Furthermore, several studies suggest that children can and do transmit the virus.
According to one recent study from the Korea Centers for Disease Control and Prevention, children between 10 and 19 years old may transmit coronavirus just as much as adults. 
"Although the detection rate for contacts of preschool-aged children was lower, young children may show higher attack rates when the school closure ends, contributing to community transmission of Covid-19," the study said.
Both the National Institutes of Health and the Centers for Disease Control and Prevention are also studying families and households to better understand the role children play in transmitting the virus. But as of June 30, CDC Director Robert Redfield said, "We don't know the impact that children have yet on the transmission cycle."
As a result, even though children appear to be affected less commonly or severely than adults, returning to school still poses certain risks. 
"Relatively few children with COVID-19 are hospitalized, and fewer children than adults experience fever, cough, or shortness of breath," the CDC said in an article for pediatric health care providers published in late May. However, the article also noted that "severe outcomes have been reported in children including COVID-19 associated deaths."