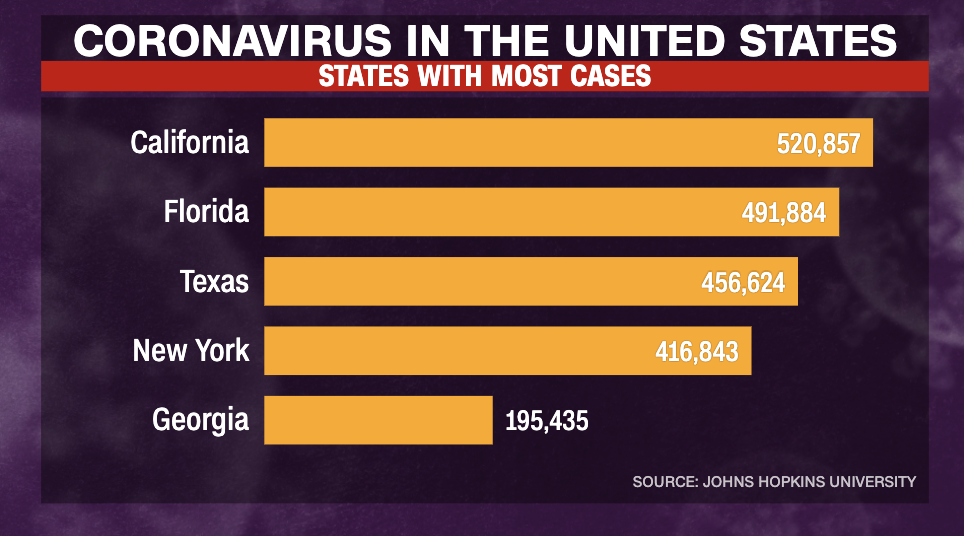 At least 13 states have reported more than 100,000 coronavirus infections and four of them — California, Florida, Texas and New York —have recorded more than 400,000.
California, with more than 516,000 positive cases, has reported the most infections in the nation, but is beginning the week on a positive note. The state reported a seven-day average of cases of about 7,764 Monday, which is down about 21% from the previous week, Gov. Gavin Newsom said.
In Los Angeles County, officials said they're cautiously optimistic as data trends seem to be stabilizing and moving slightly downward. Los Angeles is seeing a seven-day average of about 2,600 cases per day, down from a couple weeks ago when that same average was more than 3,000 cases each day.
Florida has the second-highest number of cases in the country, with more than 491,000 recorded infections.
Two teenagers between the ages of 14 and 17 have also died in the state, according to state data, bringing the total number of minors in Florida who have died in relation to the virus to seven.
In Texas, Houston Mayor Sylvester Turner, who in July proposed a two-week stay-at-home order to help drive down cases, said Monday the city will be issuing citations and fines to people who are not following the state's mask mandate. The state has reported more than 455,000 infections and more than 8,000 people are hospitalized statewide.
"When we are encountering people on patrols, out and about, and we are seeing that they do not have their mask on when they are in public and around other people, we will provide the necessary warning," Turner said. "And then a failure to heed to that warning will lead to a citation and a $250 fine," he said.
Track the virus in your state here.