In the face of a massive public health crisis, Prime Minister Narendra Modi has stayed largely silent on the fierce second wave of Covid-19 until recent weeks. In intermittent statements throughout April, he acknowledged the "alarming" rise in cases, but was slow to take containment measures besides ordering states to increase testing and tracking, and asking the public to stay vigilant.
It wasn't until Tuesday that Modi finally emphasized the urgency of the situation, but by then, India's outbreak was already the world's biggest in terms of absolute daily numbers. Nearly 28% of all new cases worldwide in the past week have come from India, according to the World Health Organization.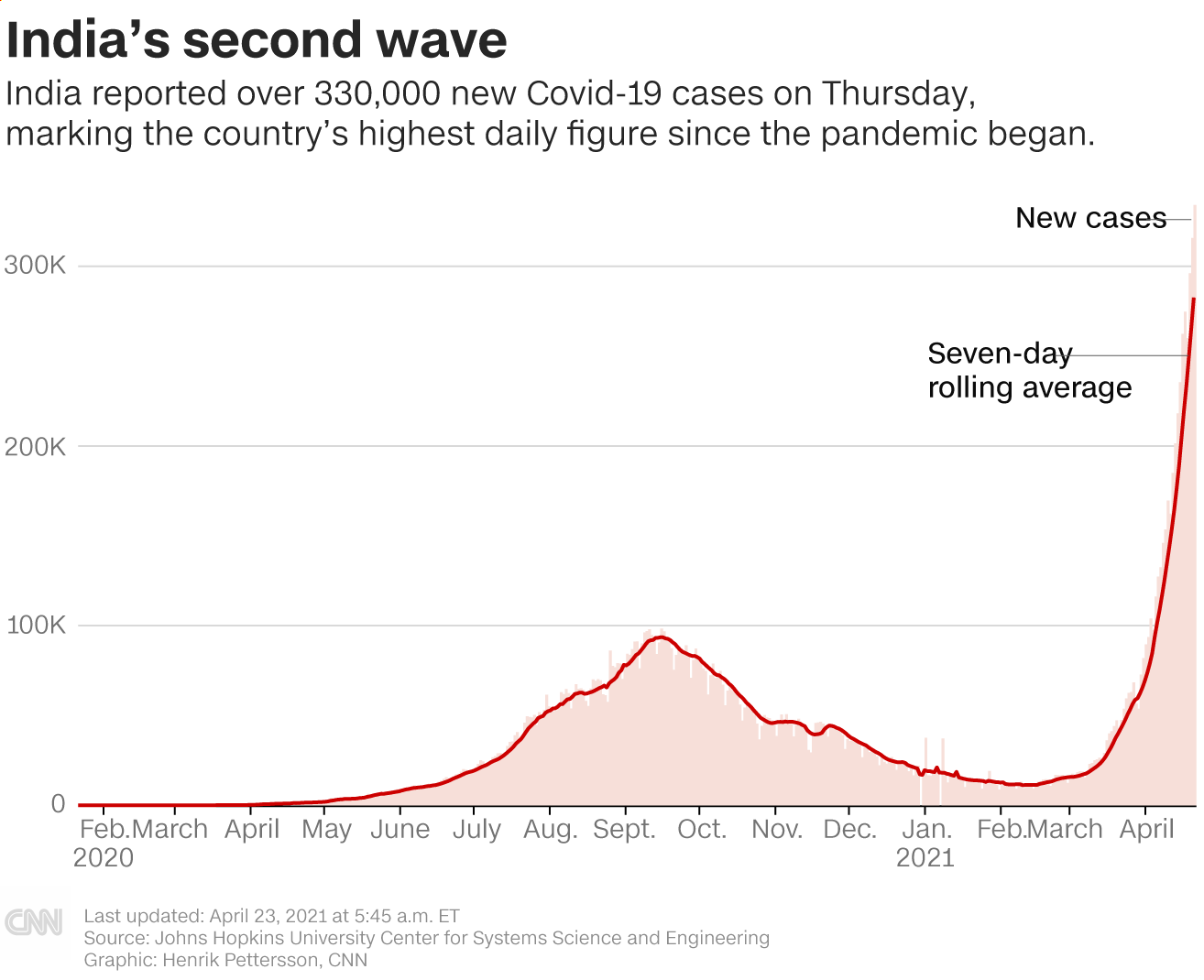 Experts and health care workers say the second wave advanced so rapidly because the public let its guard down after the first wave subsided. This complacency was exacerbated by government officials, like Modi and his health minister, celebrating the country's apparent recovery. Leaders allowed a massive weeks-long Hindu pilgrimage to proceed with millions of attendees traveling across numerous states.
Grievances have spilled over on social media in the past week. Tens of thousands of people took to Twitter with trending hashtags like #ResignModi, #SuperSpreaderModi, and #WhoFailedIndia.
The anger has also been heightened this time by Modi flying out to hold political rallies with thousands in attendance for the upcoming elections in four states and one union territory.
As cases skyrocketed, several of the competing parties stepped back from the campaign trail. Modi's party announced it would also limit its rallies to "small public gatherings," -- with a cap of 500 people.
This week, Modi canceled his campaign trip to West Bengal to instead attend high-level Covid meetings.
But Modi and the BJP's rallies throughout March and April, and their late action, undermine his message to the public for greater vigilance, said Harsh Mander, writer and human rights activist.
"There's a blaming on ordinary people," he told CNN. "But what we have seen is that the prime minister has actually gathered large masses of people, none of them wearing masks and keeping any kind of distancing in political gatherings."
Read the full story here:
CNN's Aditi Sangal and Esha Mitra contributed to this report.