4:38 a.m. ET, September 20, 2019
Europe wakes up and heads to the climate strikes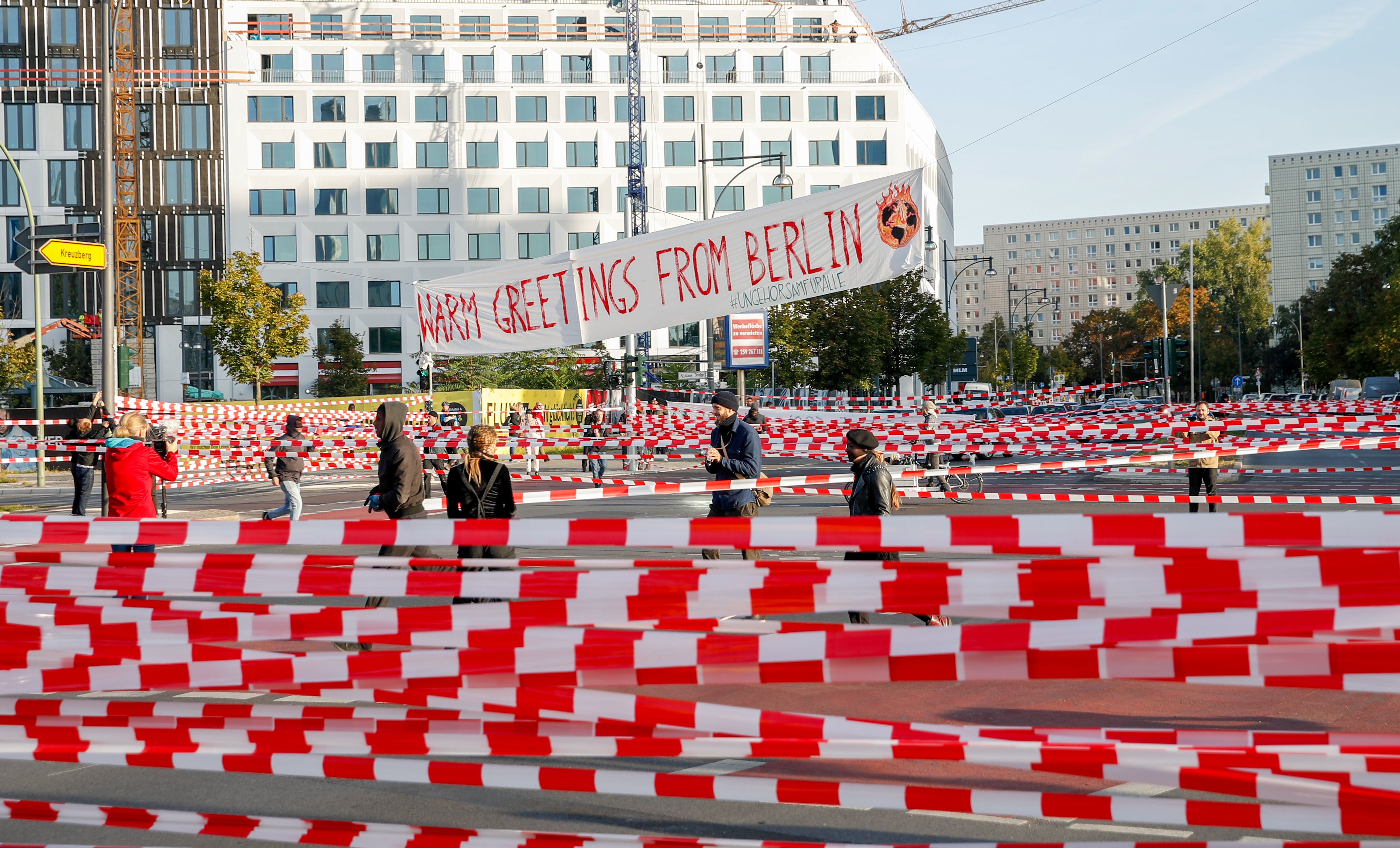 As it stretches into late afternoon and evening in the Asia Pacific region, Europe is now waking up -- and ready to protest for climate action.
Photos from Berlin, Germany, show climate activists blocking road traffic by stretching hundreds of plastic cordons across a bridge.
Activists in Strasbourg, France, are gathering to push for clean vehicles under a goal of eliminating diesel and petrol cars by 2025, according to photos posted by Greenpeace Strasbourg.
London Mayor Sadiq Khan posted a video on Twitter early Friday morning, reaffirming his support.
"I am standing in solidarity with all those who are taking part in the Global Climate Strike," Khan said.
"Here in London, City Hall staff have also been encouraged to observe the strike by taking time out of their day to send a message to the world that London demands more ambitious climate action from governments."
There are more than 180 climate strikes, rallies, and events happening across the UK today, according to the organizer's website.
4:10 a.m. ET, September 20, 2019
Students strike in India, where millions are running out of water because of climate change
Students in New Delhi, India, are joining the worldwide climate strike.
Pictures posted on Twitter by Greenpeace India show young people marching through the city with defiant signs. "Where is my right to breathe?" one reads.
Another sign bears the illustration of Greta Thunberg, the 16-year-old climate activist who helped organize this round of global climate protests.
Climate change in India: Climate change has hit the country hard. Dry seasons are drier, leading to monthslong droughts that cause reservoirs to dry up. Earlier this summer, major cities like Chennai and New Delhi, home to tens of millions of people, nearly ran out of water.
Livestock and crops are dying, farmers are in despair, and rural residents are being forced from their homes due to lack of water.
Then, the wet seasons are delayed -- prolonging the difficulties of the drought -- and more intense. The sudden, heavy rainfall floods cities nearly every year now, causing death and destruction.
3:57 a.m. ET, September 20, 2019
Employees from Facebook, Google, Amazon, and Microsoft are striking too
Over 1,500 Amazon employees have pledged to walk out on Friday, and Microsoft workers have also said they will join the climate strikes.
Amazon Employees For Climate Justice, composed of Amazon employees, tweeted on Friday, "Our pollution harms people and communities around our logistics hubs. We must take responsibility for the impacts of our business."
Hundreds of Google employees are striking too. "Tech is not 'green.' We stand with students and our peers across tech in support of the climate movement, in support of frontline communities, and in support of a livable future – we are committed to bold action across the tech industry, and beyond," they said on Twitter.
Employees at Facebook and Twitter have also pledged to strike and march on Friday.
Not just tech: Many other companies are joining in. Outdoor clothing brand Patagonia has said it plans to shut down its operations on Friday to allow employees to join the Global Climate Strike.
The Maritime Union of Australia has also reportedly said that that 380 stevedores -- ship dock workers -- from Hutchison Ports in Sydney would stop work from 10 a.m. to 2 p.m. local time Friday to attend the climate strike, while the Trades Union Congress (TUC) in the UK has called on its members to support the climate strikers.
In Victoria, Australia, students and public workers are being encouraged to walk out of school and work.
3:34 a.m. ET, September 20, 2019
Indonesia activists march while the country's forests burn
Climate activists in Bali, Indonesia, are marching as part of today's global climate strike.
People marched with placards at Sanur Beach, in the south of the resort island. The signs called for action on a number of different climate and environmental issues, including fracking, marine health and air pollution.
Indonesia's forest fires: The issue of pollution and climate change is especially pressing in Indonesia, where sprawling fires in the Sumatra region have burned more than 328,000 hectares (about 800,000 acres).
Hundreds of residents evacuated, and more than 9,000 personnel have been deployed to battle the flames.
The smoke, dust, and air pollution coming from the flames have made their way to the neighboring countries of Malaysia and Singapore, choking cities in a dense gray haze for weeks. Malaysian authorities distributed 2 million face masks to students in affected areas, state news agency Bernama reported Thursday.
Effect on climate: The fires also raise Indonesia's contribution to climate change, as the land burned is extremely carbon rich. Environmental organizations like Greenpeace and the World Wildlife Fund have spoken out against the fires, calling for action to preserve the land.
3:07 a.m. ET, September 20, 2019
Extinction Rebellion activists rally in Hong Kong
A few dozen activists and members of the Extinction Rebellion climate action movement are rallying in Hong Kong, where only about 1% of energy comes from renewable sources.
"This is an amazing opportunity to be part of a global movement. We want Hong Kong to get on board to be part of it," said Harriet Hulme, 35, who moved to Hong Kong from Britain.
"Generally it's about raising awareness about how serious the situation is," she said. "The government should declare a climate and ecological emergency, and for Hong Kong (to be) carbon neutral by 2025 and to create citizen assemblies to decide the best way forward to become carbon neutral."
2:36 a.m. ET, September 20, 2019
South Korean activists use flashing lights to spell out "SOS" in Morse code
A small group of people are also striking in Seoul, South Korea, to demand faster action to tackle climate change.
Environmental activists staged a performance in central Seoul, using flashing eco-friendly LED lights to sign out "SOS" in Morse code.
Just 2% of South Korea's energy sector is currently renewable, the International Energy Agency told CNN earlier this year.
The country has vowed to close 14 coal power plants as part of its 2050 Energy Vision Plan, but recently invested tens of billions of US dollars in coal, according to the World Energy Council.
Air pollution is a serious problem in South Korea. The government declared it a "social disaster" in March and passed a set of bills to tackle the problem after seven cities experienced record-high concentrations of harmful PM 2.5 particles.
2:12 a.m. ET, September 20, 2019
Kids are marching for climate action in Bangkok
Crowds have gathered in Bangkok to march for climate action, under the protest slogan "Fridays for Future."
Like the other marches happening worldwide today, this rally is strikingly young, with students in the mix and young voices conducting call-and-response chants.
"Unite behind climate science," says one placard. Another sign has an illustration of the planet burning, and the words "Our home is on fire."
Climate change effects: Cities like Bangkok are feeling the effects of climate change first hand -- rising sea levels could cause residents to abandon the coastal city. Meanwhile, climate change has created hotter, wetter weather in already-tropical countries like Thailand, worsening the deadly dengue outbreak.
2:00 a.m. ET, September 20, 2019
Climate march draws more than 100,000 people in Australia
The climate strikes have kicked off in Australia, with thousands of students, young people, and climate action activists taking to the streets.
A climate march in Melbourne has drawn more than 100,000 people, according to estimates from a Member of Federal Parliament.
Greens MP Adam Bandt, who represents the seat of Melbourne, tweeted: "This is HUUUGE, Melbourne! Announcers just said over 100,000 people! #climateStrike #Greens,"
Thousands more are marching in Sydney and Brisbane, holding signs with climate action slogans.
"We're here striking because we need adequate action on climate change. That's all we're asking for: adequate climate action and climate justice," said Daisy Jeffrey, a student organizer of the school strike.
"We're coming out here today in solidarity. We're coming together to say that this is not right." 
Take a look:
1:46 a.m. ET, September 20, 2019
Protesters are rallying across the world. Here's what they want.
The organizers of today's climate strike say the crisis will most directly affect young people. But that doesn't mean it shouldn't be an issue on everyone's minds. They want allies.
What they want: Strikers are also demanding "climate justice" to cast the climate crisis as not just an environmental issue, but also an ethical obligation.
The hope is the strikes will show world leaders that it's not just young people who want climate change to be addressed.
"September's climate strikes will kickstart a huge wave of action and renewed ambition all over the world," organizers say.