Global Climate Strike: Students around the world protest climate inaction
Updated
5:55 p.m. ET, March 15, 2019
5:55 p.m. ET, March 15, 2019
Our live coverage of the climate change protest has concluded. Read more about today's protest below:
3:21 p.m. ET, March 15, 2019
Watch students perform Haka dance at protest in New Zealand
From CNN's Christina Zdanowicz
Students from Nelson College in Nelson, New Zealand, performed a Haka dance during a massive climate change protest.
"The students behind them are from Nelson College for Girls, Nayland College, Waimea College, Broadgreen Intermediate and more," freelance journalist Naomi Arnold said.
Arnold shot this video of the performance:
3:15 p.m. ET, March 15, 2019
Here's why these young climate activists are striking
From CNN's Harmeet Kaur and Madison Park
Young climate activists are hoping to spark a widespread dialogue about climate change, following in the footsteps of their peers in Parkland, Florida, who led a national conversation about gun control after a mass shooting at their school.
And they're concerned about the inaction on this front.
World leaders only have 11 more years to avoid disastrous levels of global warming, according to a 2018 report from the UN Intergovernmental Panel on Climate Change (IPCC).
If human-generated greenhouse gas emissions continue at the current rate, the planet will reach 1.5 degrees Celsius above pre-industrial levels as soon as 2030. That threshold is critical.
Global warming at that temperature would put the planet at a greater risk of events like extreme drought, wildfires, floods and food shortages for hundreds of millions of people, according to the IPCC report.
What they want: The common demand among students, although they vary country-to-country, is for the reduction of greenhouse gas emissions.
Here's what that agenda includes for kids in the US, according to the Youth Climate Strike website:
a national embrace of the Green New Deal
an end to fossil fuel infrastructure projects
a national emergency declaration on climate change
mandatory education on climate change and its effects from K-8
a clean water supply
preservation of public lands and wildlife
all government decisions to be tied to scientific research
2:55 p.m. ET, March 15, 2019
Students rally at US Capitol and chant "Change is coming"
From CNN's Harmeet Kaur and Madison Park
Students in the US gathered near the Capitol in Washington, DC, carrying signs that read, "Change is coming," and chanting, "What do we want? Climate action! When do we want it? Now!"
"Today, the tens of thousands, maybe hundreds of thousands, maybe millions of kids who are striking around the world are doing it not because we want to skip school, but because we are scared," 12-year-old Haven Coleman, co-founder and co-director of the US Youth Climate Strike, said at a news conference in the country's capital.
"Climate change is the largest threat to our lives, our future and our world," she said.
Other strikes were planned in nearly all 50 states.
12:42 p.m. ET, March 15, 2019
Thousands of strikers gather in European capitals
By CNN's Isabelle Gerretsen
European capital cities have attracted huge crowds of strikers today, as shown in these pictures shared by the European Green Party:
12:04 p.m. ET, March 15, 2019
"India is already suffering from climate change"
By CNN's Isabelle Gerretsen
In cities across India, school students joined climate strikes.
Vidit Baya, head of the Fridays for Future movement in India, tells CNN that India is already suffering from the impacts of climate change.
"In 2018, severe floods affected the coastal state of Kerala killing hundreds and injuring thousands. It is suspected that a 2 degrees Celsius rise in world's temperature will make India's monsoon ever more unpredictable," he says.
"Rising sea levels will impact agriculture and degrade groundwater quality," according to Baya.
Watch student protesters in India:
11:37 a.m. ET, March 15, 2019
"Drought and extreme weather will destroy our economy"
By CNN's Isabelle Gerretsen
In Tel Aviv, hundreds of students have gathered to protest what they say is the Israeli government's failure to cut emissions and switch to renewable energy sources.
"We fear that drought and extreme weather conditions will destroy our economy because when temperature rises the need for water will increase and also the lack (of) water multiplies. Low income families will struggle to pay for water," Michael Bäcklund, one of the strike's main organizers, tells CNN.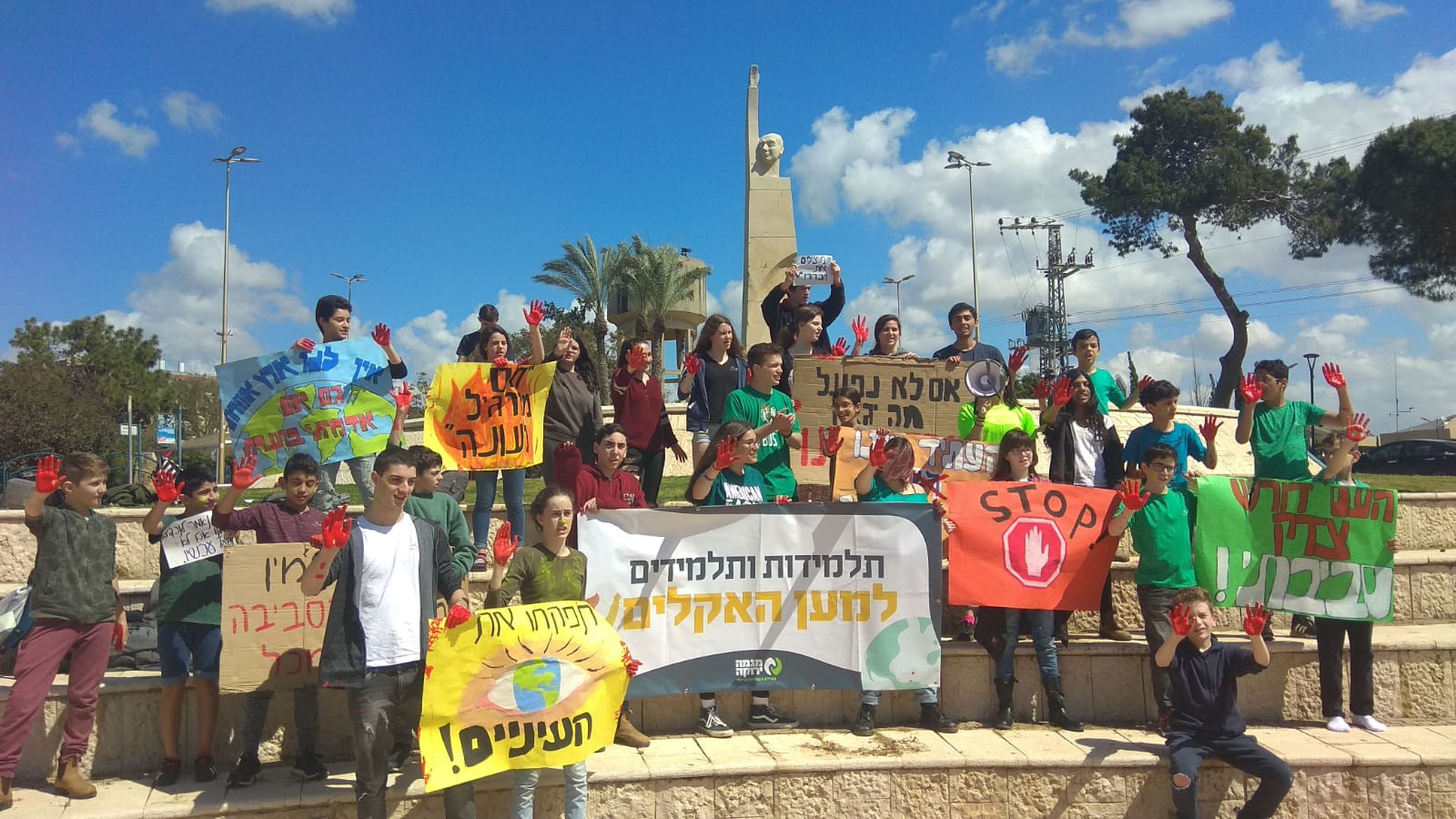 1:23 p.m. ET, March 15, 2019
Luxembourg: "Governments of the world have to wake up"
By CNN's Mark Tutton
Thousands of young people have gathered in Luxembourg City, singing, dancing and listening to speeches.
"We strike to express our dissatisfaction with current large-scale inaction on climate change," says Zelie Guisset, from Youth for Climate Luxembourg.
"To show we are gravely concerned about the world we will live our future lives in. To demand that treating the climate crisis as the crisis it is. Hoping that our strike will urge and pressure politicians or other people in power to take the urgent action needed to solve this climate crisis. 
"Thirty years of 'small individual acts' and 'everyone does their bit' has not worked. Governments of the world have to wake up."
10:39 a.m. ET, March 15, 2019
Mayors support striking students
By CNN's Isabelle Gerretsen
Mayors around the world have expressed their support for the student protests.
"It is heartening to see our young people taking a stand and reminding us that it is their generation who will be left to face the worst effects of climate change if we don't act quickly to cut carbon emissions," Philadelphia Mayor Jim Kenney said in a statement.
"It is truly inspiring to see young people demanding urgent climate action. It is our responsibility as adults and political leaders, to learn from you and deliver the future you want and the future you can trust in," said Paris Mayor Anne Hidalgo, who joined the march in Paris.
Read Mayor Hidalgo's CNN op-ed about how female empowerment could avert a global climate crisis