#MyFreedomDay 2021: Students take a stand against modern-day slavery
Updated
2:08 p.m. ET, March 22, 2021
2:08 p.m. ET, March 22, 2021
Spelling out the meaning of freedom
In Moldova, students define freedom, one letter at a time.
2:06 p.m. ET, March 22, 2021
A colorful commitment
Colorful artworks accompany this pledge from Cemba, an arts school in Ecuador.
1:24 p.m. ET, March 18, 2021
A future unchained from slavery
Here's a video from Future Unchained, a California-based group that helps victims of human trafficking and raises awareness among the Asian American community.
1:19 p.m. ET, March 18, 2021
Supporting freedom, fighting slavery
These students from Universal Whitehall Schools in Nigeria are supporting freedom from slavery and forced labor.
1:19 p.m. ET, March 18, 2021
A trafficking survivor, spreading the message
Mexican trafficking survivor Karla Jacinto recorded this heartfelt video. "You are making a difference," she says, "and everyone can help, by spreading the message."
1:17 p.m. ET, March 18, 2021
More freedom messages!
Our live blog may have closed, but the #MyFreedomDay messages have kept coming -- including this one from students in Ecuador: "Help stop human trafficking and be part of the change."
5:05 p.m. ET, March 16, 2021
Until next year!
That's a wrap from us on the live blog for #MyFreedomDay 2021. On behalf of everyone at the CNN Freedom Project, thank you for the photos, videos, signed pledges and creative artwork shared from all over the world.
Most importantly, thank you for pledging to help fight modern-day slavery. It takes all of us. See you next year!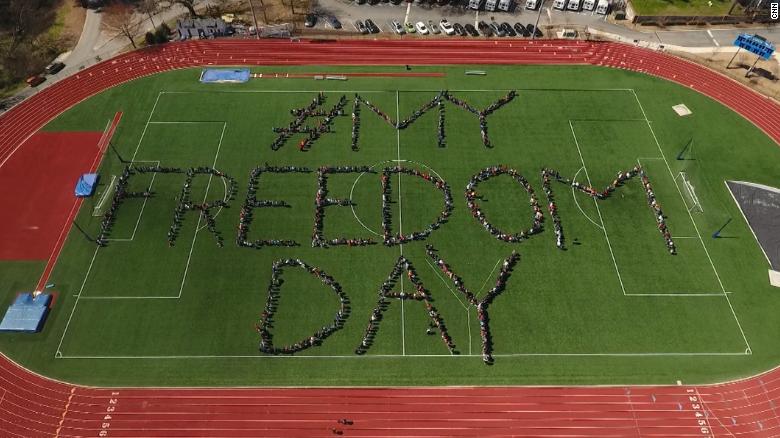 4:45 p.m. ET, March 16, 2021
Doing your part to spread the message
Though they couldn't get together in person, members of the Human Rights Center at the University of Dayton in Ohio, US, virtually showed their support for My Freedom Day with a call to action to raise awareness of modern slavery.
4:09 p.m. ET, March 16, 2021
'I pledge to take action to help end slavery'
In Jamaica, students at the Hillel Academy nominate each other to sign the #MyFreedomDay pledge, creating a chain that includes more than a dozen classmates.