Evacuation of passengers has ended as cruise ship travels to Norway port
8:02 a.m. ET, March 24, 2019
Evacuation of passengers has ended as cruise ship travels to port
The evacuation of passengers from a cruise ship off the western coast of Norway has come to an end as the vessel safely makes its way to Molde harbor, Viking Ocean Cruises said in a statement.
Rescue teams airlifted 479 people from the vessel after it was stranded in stormy seas Saturday with 1,300 passengers and crew on board.
The Viking Sky cruise ship, which regained engine power on Sunday morning, is traveling to Molde accompanied by two supply ships and one tug assist vessel. There are 436 guests and 458 crew still remaining on the ship.
Twenty people sustained injuries on the vessel, which was being tossed about by wind and waves, Viking Ocean Cruises said. All are being treated at medical facilities in Norway, or have already been discharged.
"Throughout all of this, our first priority was for the safety and well-being of our passengers and our crew," Viking Ocean Cruises said in a statement, thanking Norwegian emergency services and local residents for their support.
The next sailing, which was scheduled to embark on March 27, has been canceled.
6:01 a.m. ET, March 24, 2019
Evacuated passengers treated for bruising, broken bones, cuts
The Norwegian Red Cross, which was treating passengers from the stricken cruise ship at an evacuation center in Hustadvika, on Norway's western coast, said that they were seeing injuries including bruising, broken bones and cuts.
6:14 a.m. ET, March 24, 2019
More than 400 people rescued from stranded cruise ship
Rescuers have evacuated 418 people by helicopter from the Viking Sky cruise ship, a day after the vessel was stranded in rough seas off Norway with 1,300 passengers and crew on board.
"There are at least two or three helicopters still rescuing people from the cruise ship but there is only one helicopter in operation at one given time because of the weather," a spokesperson from Norwegian rescue services (HRS Southern Norway) told CNN.
"They work in rotations because it is not possible to hoist people from two helicopters working at one time."
Passengers aboard the stricken ship say the vessel is being tossed about by wind and waves as they continue to await rescue.
Three of the ship's four engines are now working, and tug boats are trying to move the ship to shore.
4:51 a.m. ET, March 24, 2019
Americans airlifted from cruise ship describe frightening scenes on board
Two American passengers who were airlifted off the Norway cruise ship told CNN affiliate Dagbladet about the frightening scene on board.
"Furniture would slide across the room, slide back and with it came people and glass. It was a very dangerous situation frankly," Jan Terbruegen said.
Speaking at the Scandic Hotel Alexandra, where many of the evacuated passengers are staying, Terbruegen described seeing the ship drifting toward rocks before being evacuated.
"We could see that we were getting blown in toward some rocks. That was the most frightening thing I think. But luckily that wasn't our destiny," Terbruegen said.
Beth Clark, another American passenger, said she was hoisted 100 feet in the air onto a Coast Guard helicopter from the ship. She praised the Norwegian Coast Guard, Viking Sky crew and others for help with the evacuation efforts.
4:00 a.m. ET, March 24, 2019
Ship is now moving at a 'slow pace,' Joint Rescue Centre for Southern Norway says
The stranded Norway cruise ship has restarted with three of four engines now working, Joint Rescue Centre for Southern Norway spokesman Per Fjeld tells CNN.
The ship is moving at a slow pace and the evacuation operation is still going as planned, he says.
Two tug boats are attempting to pull the ship to shore, but there is no estimated time on how long it'll take, Fjeld says. 
3:52 a.m. ET, March 24, 2019
Passenger waiting 15 hours for rescue says, 'we need off this ship!'
A passenger aboard the Viking Sky cruise ship wrote on Twitter that he has been waiting 15 hours to be evacuated from the stranded vessel.
"We need off this ship!" Ryan Flynn shared on Twitter along with a video of passengers wearing orange life vests.
Flynn also said that the ship "continues to pitch and roll" and called the conditions "miserable."
But another passenger, David Hernandez, had a rosier outlook. "Crew has been fantastic keeping everyone calm and fed," he wrote on Twitter.
9:52 p.m. ET, March 23, 2019
The cruise ship was headed toward Stavanger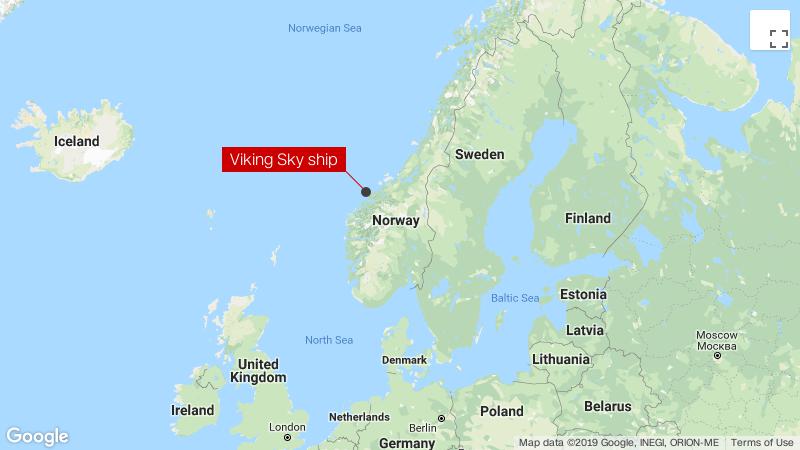 Passengers were on a 12-day Northern Lights cruise that departed from Bergen, Norway on March 14. The ship was visiting different Norwegian towns and cities before arriving at its final destination of London Tillbury, England on March 26. 
The Viking Sky left Tromso on March 21 at 10:20 p.m. local time, according to Marine Traffic. It's estimated time of arrival at Stavanger shows March 24 at 1 p.m.