Fire at Notre Dame Cathedral
6:48 p.m. ET, April 15, 2019
Notre Dame's roof structure -- known as "the forest" -- has been lost
Notre Dame's medieval roof structure, known as "the forest," has been lost to the massive fire, according to Msgr. Patrick Chauvet, the rector of the cathedral.
"The framework from the 13th century is called a forest, because it required a forest of trees to build it," he said.
The cathedral's wooden frame, which primarily consists of oak, contains beams that date as far back as the first frame. It features trees cut down between 1160 and 1170, forming one of the oldest parts of the structure.
Most of the current frame dates from the year 1220, according to the church's website. 
According to the Notre Dame website, it's one of Paris's oldest frameworks. Learn more about the construction of the famous cathedral here.
6:35 p.m. ET, April 15, 2019
Joe Biden tweets, says cathedral will "rise again"
Former vice president and potential 2020 Democratic hopeful Joe Biden tweeted his thoughts on the blaze, which consumed large sections of the cathedral.
"For centuries, Notre Dame Cathedral has withstood wars, revolutions, and the test of time," the tweet reads, noting that the devastating fire occurred during Holy Week, the holiest week of the Catholic calendar. Biden calls it "a symbol of faith & a testament to history," adding that he believes it will be reconstructed, to "rise again."
6:01 p.m. ET, April 15, 2019
Paris prosecutor opens an investigation into the Notre Dame fire
The Paris prosecutor's office has opened an investigation into the devastating fire at Notre Dame Cathedral, a spokesperson told CNN on Monday.
Prosecutors will be investigating an "involuntary destruction by fire," the spokesperson said.
6:08 p.m. ET, April 15, 2019
French President Emmanuel Macron: "We will rebuild this cathedral together"
French President Emmanuel Macron just announced that, starting Tuesday, he will launch an international fundraising campaign to rebuild the Notre Dame Cathedral.
Macron, speaking from the scene, described the fire as a "terrible tragedy," but added the "worst had been avoided." He noted that the cathedral's facade and two main towers did not collapse during the fire.
"I'm telling you all tonight — we will rebuild this cathedral together. This is probably part of the French destiny. And we will do it in the next years. Starting tomorrow, a national donation scheme will be started that will extend beyond our borders," Macron said.
Watch Macron's statement below:
5:53 p.m. ET, April 15, 2019
Mass was being celebrated at the cathedral when the fire broke out, attendee says
French-American François-Xavier Lochet, 70, was attending Mass at Notre Dame Cathedral on Monday when a loud alarm went off just as the congregation began the Universal Prayer -- it was so loud Lochet could barely understand the messages in French and English.
Most of those who heard it, however, just stood there as visitors began to be ushered out of the cathedral. That was until, Lochet said, a police officer approached a priest and told him, "This is no joke. You've got to get out."  
Lochet began walking back to his mother's home when he turned around and saw smoke.
"Nobody was paying attention," he said. "I stopped and I took my phone out and I waited."  
Soon, smoke began billowing out from the cathedral.
"To me. I felt like crying," he said. "This is my most favorite church probably in the world. To me, as a kid, I climbed the towers when I was 12 years old."
He could not help but think about the countless craftsmen who devoted their entire lives to constructing the church, even those who helped renovate it. He'd often go to Mass, or just to listen to the cathedral's organs.
"It's a huge piece of history of Europe," he said. "Gone."
He took this photo of the early flames. That spire, and much of the roof on which it sat, would later fall: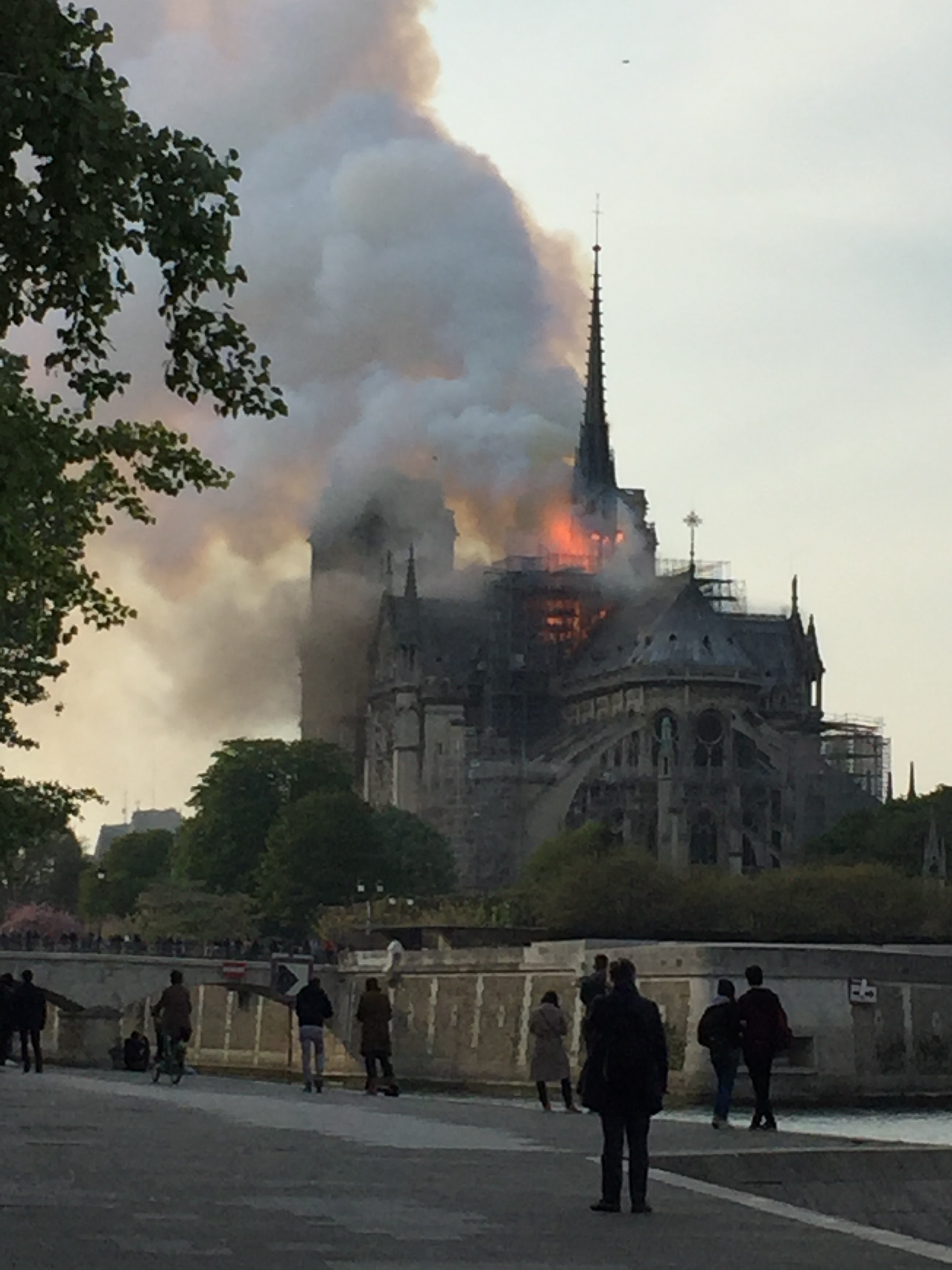 5:31 p.m. ET, April 15, 2019
A growing crowd of mourners are singing hymns and praying outside Notre Dame
It's past 11 p.m. in Paris, but the crowds of Notre Dame mourners haven't gone anywhere -- many are still gathered outside the cathedral, praying and singing hymns.
Some are on their knees; at one point, a group broke out in a haunting rendition of the "Ave Maria."
They have been singing for almost two hours now, and the hymns are getting louder as more people join in.
Watch the scene here:
5:25 p.m. ET, April 15, 2019
NOW: French official says "both towers of the cathedral are safe" and the fire is cooling
Both towers of the Notre Dame Cathedral "are safe," said Laurent Nunez, secretary to the interior minister, hours after a massive fire toppled its spire, burned most of its roof and threatened the centuries-old art and architecture inside.
"The fire is now weaker. We are now in a time of cooling but both towers of the cathedral are safe. We're still working to save the cathedral's work of arts," Nunez told reporters at the scene.
One firefighter has been seriously injured, said Paris Fire Brigade commander general Jean-Claude Gallet. Gallet said that two-thirds of the roof has been destroyed.