Missing youth soccer team found alive in Thai cave
10:08 p.m. ET, July 3, 2018
Our live coverage has ended. Go here or scroll through the posts below to read more about the rescue efforts.
9:45 p.m. ET, July 3, 2018
Video shows boys smiling and covered in space blankets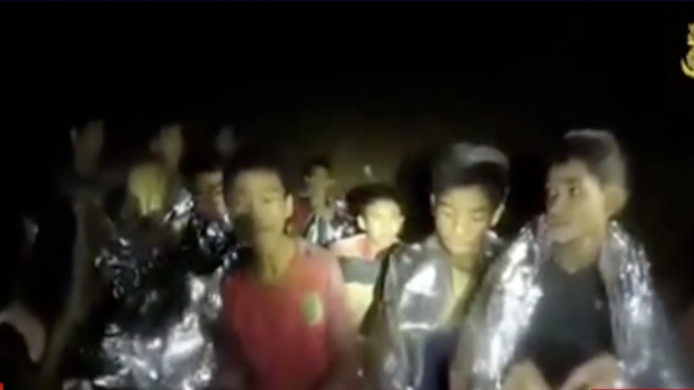 The Thai Navy SEALs released new video of the boys and their soccer coach smiling and covered with space blankets inside a cave in Thailand a day after they were found by rescuers.
In the video, a Navy SEAL tells the boys to introduce themselves to their fans, CNN's Anna Coren reported. The boys say "hello" in Thai, then they, along with their coach, introduce themselves by their nicknames. The Navy SEAL also tells the soccer team that the world is watching them.
"And it is so true. Not just Thailand, but it is the world," Coren noted. "There is a huge contingent of people here from across the globe that are following every single development, wanting these boys to get out safely."
The boys, she said, are ready to get out of the cave.
"I think what is pertinent about this video is that they say, 'I am healthy. We are healthy,'" Coren said.
8:06 p.m. ET, July 3, 2018
Rescuers are using these radios to talk underground
Thai rescuers needed more than a simple walkie-talkie to communicate with each other as they made their way through the Tham Luang Nang Non cave system.
So they reached out to Israeli company Maxtech Networks, the maker of small handheld radios. The company's radios act as repeaters, which allows them to instantly increase the range of communication in an area without an established infrastructure like in a cave.
Regular walkie-talkies usually work in close range. Beyond that they need relays and repeaters to spread the signal, CNN's Oren Liebermann reported.
These are the radios they are using:
7:14 p.m. ET, July 3, 2018
The boys are trapped in a flooded cave and the monsoon season is just beginning
Rescuers have finally reached the 12 boys and their soccer coach. They were given pork and rice, and appear to be in good health, according to a medic.
But the challenge to remove the team from the flooded cave is just beginning because a monsoon season is underway in southeast Asia.
Rescuers are now trying to find the safest way to get the boys and their coach out of the cave as heavy rain grips the area.
CNN's meteorologist Jennifer Gray said the monsoon season will ramp up in the next couple of months, with the highest rainfall rates in July and August.
"In the short term, it looks like we're going to have some pretty good weather," Gray said. "So I think rescuers are going to take advantage of pumping some of that water out."
But the rain could pick up in a week, and the area could receive between 6 and 10 inches of rain, she said.
11:48 a.m. ET, July 3, 2018
Parents joyful after sons found alive in cave
From CNN's Susie East
This is what the parents of the missing boys had to say when their sons were found alive in a cave in Thailand.
9:46 a.m. ET, July 3, 2018
Thai Navy SEAL: "We don't have to rush" the rescue
From CNN's Patrick Samsamak
Authorities say the boys and their coach are healthy enough that rescuers don't have to rush to get them out and that it's important they get stronger before they can safely leave the cave.
"I would like to tell you that now the boys have stayed inside there more than 10 days. They can stay healthy. They have doctors. For the air at that area, we take carbon-dioxide absorb substance which we have been using for our operation. So they are staying with good condition. So we don't have to rush ... We are trying to take care them and make them strong." Chief to Thai Navy SEAL Rear Admiral Aphakorn Yoo-kongkaew said at the press conference Tuesday in Thailand.
If the boys have to dive to get out, he added, there would be a rehearsal first and that "we have to be sure that it would be safe 100%."
However, Thai officials tell CNN they could begin trying to get the kids out as early as tonight. Watch more:
9:29 a.m. ET, July 3, 2018
Rescue teams could start trying to get the boys out as soon as tonight
It's just after 8 p.m. in Thailand's Chiang Rai Province, and officials tell CNN that they could start rescuing the boys and their coach as soon as tonight.
"We heard from the deputy governor of Chiang Rai here, and he said that if they can, if it's appropriate and if — if it's not going to risk the boys' safety, they will get them out tonight. They will at least start getting them out tonight," CNN's Anna Coren reports.
Timing is unclear: Capt. Akanand Surawan, a commander with the Royal Thai Navy, said last night that authorities will supply the team with four months' worth of food.
Surawan's reference to four months has been interpreted as a potential sign that authorities are considering waiting until the rainy season ends in October to attempt a rescue.
8:17 a.m. ET, July 3, 2018
The boys appear to only have light injuries, including rashes
From Angie Puranasamriddhi
The boys and the soccer coach trapped in a Thai cave appear to have only sustain light injuries including skin rashes, according to Thai Navy SEALs, who reached the soccer team.
The SEALs brought the boys food — grilled pork, sticky rice and milk — Kamolroj Ekwattanakij, a communication officer with the Thai Navy SEALs, told CNN.
Rescuers were also trying to bring in phone lines so they could talk to their parents, but the cables so far can only reach 300 meters (that's almost 1,000 feet) into the cave.
8:06 a.m. ET, July 3, 2018
How long it takes to get the boys out depends on their strength, official says
From Patrick Sarnsamak
A Thai official said they will take members of the soccer team out of the cave depending on their strength.
Chiang Rai Deputy Governor Passakorn Boonyalak was asked about possible extraction at a press conference on Tuesday.  
"Some media have asked that whether we can take the boys out by today. I would like to confirm that all officials are working with their full capacity. If we have a chance we want to take them out. It depends on their strength and the method."